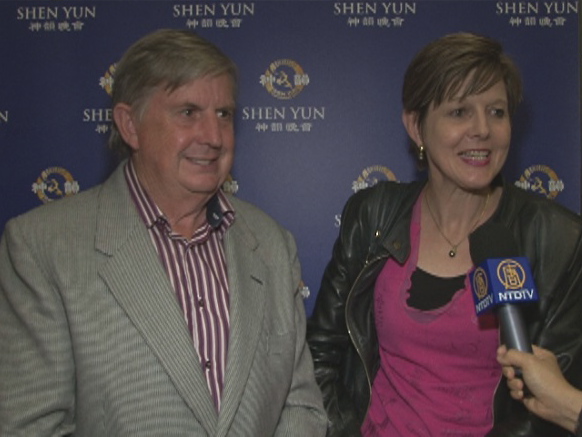 AUCKLAND, New Zealand—Opening night of Shen Yun Performing Arts was an amazing experience for Tina and Gilbert Myles, who were at the ASB Theatre, Auckland, on 20 April.
Gilbert Myles, an entrepreneur, was overwhelmed with the performance. "I think it is wonderful,' he said.
"I think the colours, the culture, the dancing-I think it's amazing you know to watch these wonderful things happening on stage before us, and I am just so pleased we came."
He loved how the Chinese culture had been uniquely portrayed through the use of digital technology with animated characters depicted in the backdrops suddenly appearing as live performers on the stage.
Shen Yun, which is based in New York, depicts 5,000 years of Chinese traditional culture with a series of classical Chinese dances intermingled with folk and ethnic dances, vocalists, and backed by a one-of-a-kind orchestra composed of classical Western and traditional Eastern instruments.
Both Mr. Myles and his wife, Tina Myles, a lawyer, were astounded by the way in which the dances recorded China's historical past.
Shen Yun's story dances draw upon stories and legends that span China's history from the Yellow Emperor of the Tang Dynasty right up to the present day, says the company's website.
"I think it's something to be very, very proud of you know, and the dancing is just exceptional," said Mr. Myles.
"I would say that the dancing is superb, the colours are quite spectacular and the whole show so far has been quite breathtaking."
Reporting by NTD Television and Diane Cordemans.
Shen Yun Performing Arts, based in New York, tours the world on a mission to revive traditional Chinese culture. Shen Yun Performing Arts New York Company performs in Auckland's ASB Theatre April 20-22.
For more information, visit ShenYunPerformingArts.org.