Singer R. Kelly surrendered to the Chicago Police Department on Feb. 22 on
charges of sexual abuse
and his mugshot was later released.
Kelly, 52, whose real name is Robert Kelly, was photographed leaving his Chicago studio and traveling to the police department's 1st District police headquarters on Feb. 22,
turning himself in
and getting handcuffed.
A Chicago police spokesman said that Kelly was fingerprinted, photographed, and processed and was set to remain in police custody overnight.
On Saturday morning, Kelly was due to take a prisoner transport to court where custody would be transferred to the Cook County Sheriff's Office.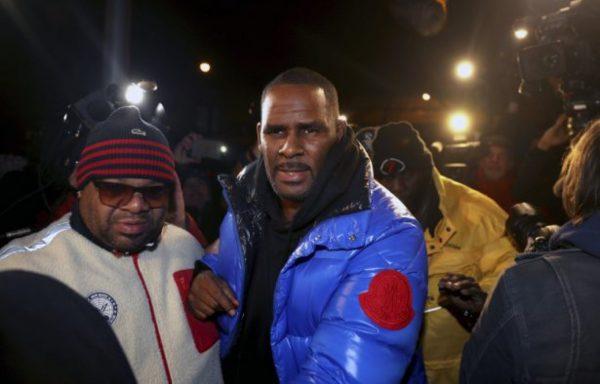 Cook County State's Attorney Kim Foxx told reporters earlier in the day that Kelly was charged with a combined 10 counts of aggravated criminal sexual abuse.
The alleged misconduct took place between 1998 and 2010, she said. Of the four alleged victims, three were underage at the time.
The four indictments (
pdf
) against Kelly were published in full and contain graphic sexual language describing the alleged sexual assaults.
Kelly didn't issue a statement but his attorney, Steve Greenberg, told reporters that all four women are lying.
"Unfortunately the state's attorney has now succumbed to public pressure," Greenberg said, reported the
Chicago Sun-Times
. "Mr. Kelly is strong, he's got a lot of support and he's going to be vindicated on all these charges."
Each count against Kelly could result in as many as 7 years in prison or as little as probation if he is convicted.
Greenberg said Kelly would be released on bond after his scheduled appearance on Feb. 23. "He's going to go to bond court, and he's gonna get out," he said.
"They're making him a sacrificial lamb for their own sake and there's no merit to any of this."
One of the alleged victims identified herself publicly at a press conference on Thursday in New York City. Latresa Scaff and Rochelle Washington said that Kelly picked them out of a crowd at a Baltimore party in the mid-1990s. Scaff said she was 16 and Washington was 15 when they attended a concert featuring Kelly and he spotted them at a party after the show.
Kelly had a member of his entourage give them drugs and alcohol and told them to meet him at his hotel suite. When the girls arrived, Kelly was already partially naked, Scaff said. Washington went into the bathroom after the singer allegedly asked the girls to have sex with him.
Scaff
told reporters
she did have intercourse with Kelly but she was under the influence of marijuana and alcohol and "did not have the capacity to consent."
"When I first met R. Kelly that night, I was very happy and excited because I was young and starstruck," Scaff said. "However now that I am an adult, I feel hurt by what he did to me when I was only 16 years old and under the influence of alcohol and marijuana which had been provided to me at his after-party."