Alejandro Villanueva, the Pittsburgh Steelers offensive tackle who stood outside the stadium tunnel for the national anthem on Sunday—the only player to do so on his team—said he regretted his decision.
"This national anthem ordeal has been out of control, and there's a lot of blame on myself," Villanueva said Monday,  Sept. 25, reported the Pittsburgh Post-Gazette.
Villanueva is a former Army Ranger who served three tours in Afghanistan.
Villanueva said there was a botched plan. Three Steelers captains, including quarterback Ben Roethlisberger, were to stand behind him right outside the tunnel.
But a lack of time and bad planning prevented that from happening, he said.
"We butchered our plan to sort of have a response for the national anthem in respect to everyone's opinions," Villanueva said.
He said that he "threw (his teammates) under the bus, unintentionally" by standing for the national anthem, alone.
"Because of that, I've made coach (Mike) Tomlin look bad, and that is my fault and my fault only," Villanueva added. "I've made my teammates look bad, and that is my fault and my fault only. And I've made the Steelers also look bad, and that is my fault and my fault only."
On Monday, Villanueva's was the top-selling jersey, according to ESPN.
Some 200 NFL players around the league protested during the national anthem. Most took a knee but some merely sat and others raised a fist, reminiscent of the Black Power symbol.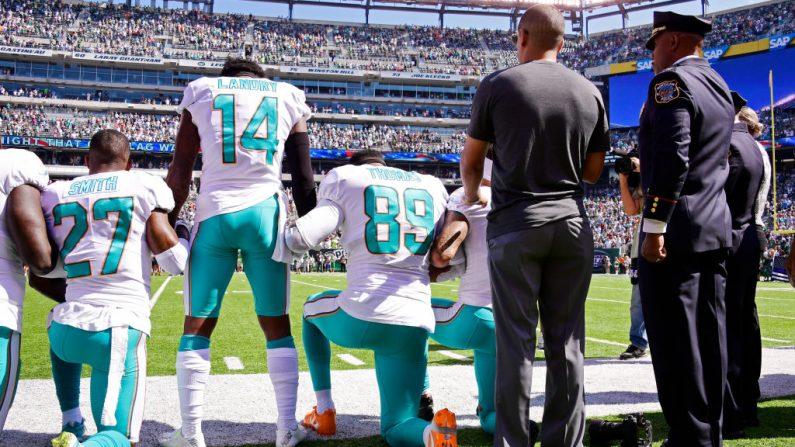 Steelers coach Tomlin also commented Sunday on the anthem issue.
Tomlin
said
, "Like I said, I was looking for 100 percent participation, we were gonna be respectful of our football team."
Another player commented on Villanueva's situation.
Steelers defensive end Cam Heyward told
ESPN
: "I don't want to go into that, but we support our guy Al. He feels he had to do it. This guy served our country, and we thank him for it."
"Al is a unique circumstance, what he's been through, some of the things he's talked about before," guard David DeCastro added.
"I've got a lot of respect for Al. I wish there was a different way to do this thing. We've got some people who look at the national anthem as patriotism, soldiers, all the stuff that it means, and obviously, people are upset, and I understand that. I just wish both sides understand that they want the right thing, but doing it through the national anthem, I wish there was a different way," he said.