A type of Entenmann's cookie has been recalled across 36 states because of pieces of plastic being present in some of the bags.
Bimbo Bakeries USA announced the voluntary recall this week of Entenmann's Little Bites Soft Baked Cookies (5 pack Mini Chocolate Chip variety) over visible, blue plastic pieces in the individual bags.
"The plastic is not baked into the product since it was introduced during the packaging process; however, consumption of the plastic pieces may result in a choking hazard," the Pennsylvania-based company said in a statement.
"Entenmann's Little Bites Cookies are made on a dedicated production line, so no Little Bites Muffins or other Entenmann's brand products are affected."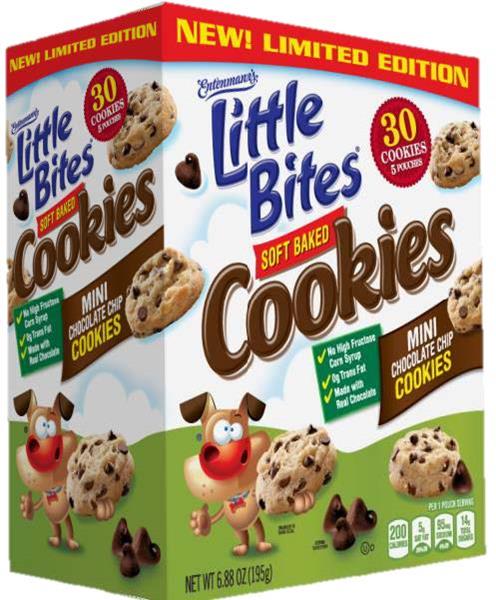 The cookies were recalled from 35 states and Washington, D.C.
Those states are: Alabama, Arkansas, Connecticut, Delaware, Florida, Georgia, Iowa, Illinois, Indiana, Kansas, Kentucky, Louisiana, Massachusetts, Maryland, Maine, Michigan, Minnesota, Missouri, Mississippi, North Dakota, Nebraska, New Hampshire, New Jersey, New York, Ohio, Oklahoma, Pennsylvania, Rhode Island, South Carolina, South Dakota, Tennessee, Virginia, Vermont, Wisconsin, and West Virginia.
The recalled products bore "Best By" dates of Aug. 31, 2019 and Sept. 7, 2019, a Lot Code of 1350, and a UPC code of 7203002378, according to the Food and Drug Administration.
"The Best By Date can be found on the top of the box, the Lot Code is to the left of the top of the box underneath the price/lb. The UPC Code can be found in the lower right-hand corner on the back of the box," the administration stated.
"The company announced the recall after receiving consumer reports of visible, blue plastic pieces found on or packaged with the product. There are no reports of injury to date."
Anyone with questions can call Bimbo's consumer relations at 1- 800-984-0989 24 hours a day, 7 days a week.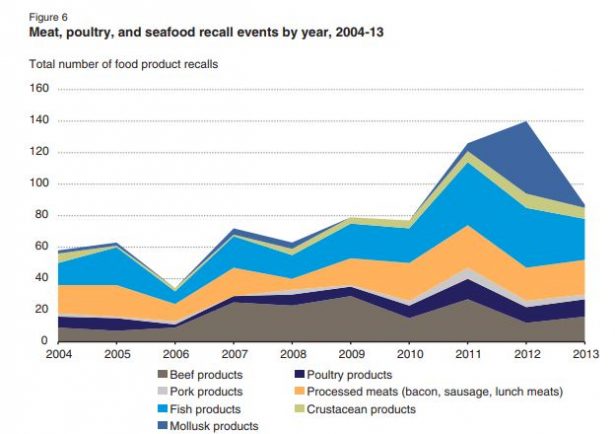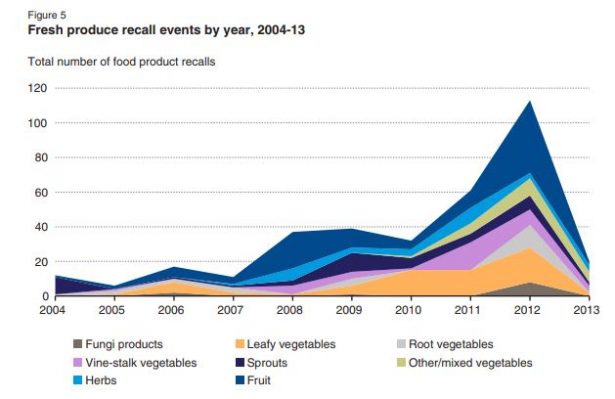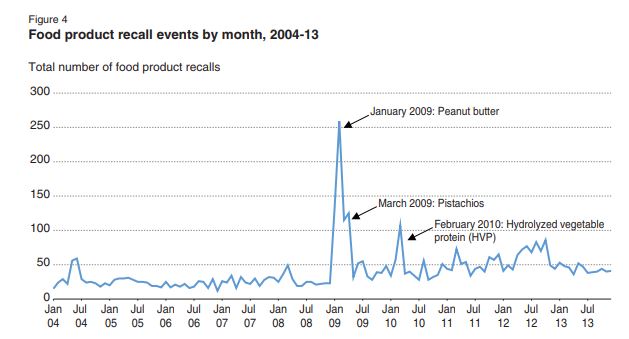 Recalls
According to a report (pdf) published by the Department of Agriculture's Economic Research Service published in 2018, there were an average of 304 recalls between 2004 and 2008 and an average of 676 recalls between 2009 and 2013.
The following six food categories accounted for most of the recalls across those years: prepared foods and meals, 11.9 percent; nuts, seeds, and nut products, 10.9 percent; baked goods, 9 percent; grains and grain products, 8.4 percent; candy products, 7.9 percent, and sauces, condiments, and dressings, 5 percent. The most common reason for each category except for nuts was failure to declare major allergens. The most common reason for nut recalls was possible Salmonella contamination.
Overall, 41 percent of the recalls were the result of pathogen contamination, such as Salmonella or E. Coli, while 27.4 percent were the result of undeclared allergens.
The most significant recall event between 2004 and 2013 took place in January 2009. Peanut butter linked to a Salmonella outbreak was recalled. The outbreak was ultimately responsible for at least 714 illnesses and nine deaths, and led to the recall of a number of products containing peanut butter or peanut paste, including cookies, crackers, and cereal; overall, over 400 separate recalls occurred.