Front line health and care staff and "critical" workers in England may be exempt from the self-isolation rules, the government has said on Monday.
All legal restrictions in England to curb the spread of the CCP (Chinese Communist Party) virus have been lifted on Monday, with the exception of self-isolation for people that test positive for COVID-19 and those who come into close contact with someone testing positive.
Over half a million people were "pinged" by the NHS app during the first week of July, causing concerns over a "pingdemic" as the country reopens.
"We recognise there are some very specific circumstances where there would be a serious risk of harm to public welfare if people in critical roles are unable to go to their workplace—like air traffic controllers or train signallers," Vaccine Minister Nadhim Zahawi told Parliament on Monday.
"So people in those kinds of roles, who have received two vaccinations, plus two weeks beyond the second vaccine, will not need to self isolate for those critical tasks they will, however, have to continue to self isolate at all other times."
Earlier on Monday, the UK government announced a case-by-case exemption from self-isolation for frontline health workers.
Double vaccinated frontline NHS and social care staff in England who have been told to self-isolate will be permitted to attend work in exceptional circumstances and replaced by testing mitigations, the Department of Health and Social Care said in a statement.
The exemption only applies to "frontline NHS and social care staff where their absence may lead to a significant risk of harm," and they will have to have a negative PCR test and daily negative lateral flow tests for 7–10 days to avoid self-isolation.
The health workers told to self-isolate must be authorised by NHS's local Director of Infection Prevention and Control, the lead professional for health protection, or the Director of Public Health relevant to the organisation to attend work, and the decision would be made on a case-by-case basis.
"As we learn to live with this virus, it's important that we ensure frontline staff can keep providing the best possible care and support to people up and down the country," Health Secretary Sajid Javid said.
"The government has backed healthcare services at every turn through this global pandemic and these new rules will fortify our collective defences against this awful virus, by allowing fully vaccinated frontline NHS and social care staff to continue to work when needed."
Javid, who has been double vaccinated, tested positive for CCP virus on Saturday. As a result, Prime Minister Boris Johnson and Chancellor of the Exchequer Rishi Sunak were both locked up on the so-called "freedom day" until July 26, because they were close contacts with the Health Secretary.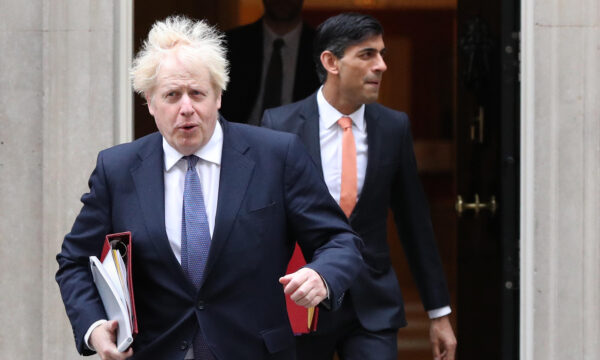 Johnson and Sunak were initially planning to participate in a pilot programme, which would permit them to take daily tests instead of self-isolating, but ditched the plan after a furious political backlash.
Johnson's spokesperson said on Monday that the prime minister has tested negative for COVID-19 and is not displaying any symptoms of the CCP virus.
Johnson has also suffered from a severe bout of COVID-19 last year, which left him in intensive care for days.