Public Health England (PHE) on Wednesday revised the criteria it uses to calculate the number of deaths in England from COVID-19, removing over 5,000 from the total.
Before, all people who had previously tested positive for COVID-19 and then died several weeks or months later were included in the tally.
It will now report two different numbers: deaths that occur within 28 days of testing positive for COVID-19; and deaths within 60 days of a positive test, or deaths after 60 days if COVID-19 is listed on the death certificate.
The new method is to avoid counting those who die from other causes after recovering from COVID-19.
The revised PHE data (pdf) for only deaths within 28 days of a positive test removed 5,377 (12.8 percent) from its headline total for England, bringing it down from 42,072 to 36,695 as of Aug. 12. The total for the UK stands at 41,357 as of Aug. 13.

PHE notes that the data "does not report cause of death, and as such represents deaths in people with COVID-19 and not necessarily caused by COVID-19."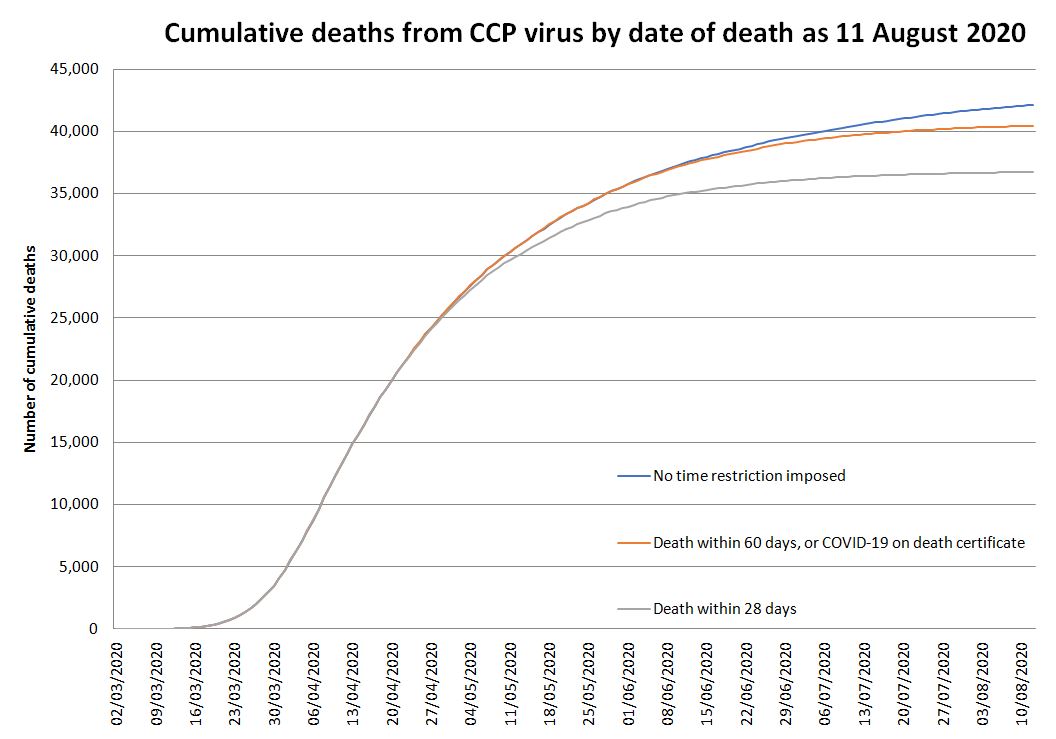 The adjustment mainly affects deaths that have occurred in the last few weeks because of the new time limit imposed. The 28-day reporting timeframe brings the UK into line with reporting in Scotland, Wales, and Northern Ireland, and several other countries.
Also reporting those who die within 60 days of a positive test or where COVID-19 is mentioned on the death certificate in England should record people who have a protracted illness in intensive care.
Improved Information
PHE said it decided to apply a time limit now because the understanding of COVID-19 had developed. After "tracking the length of time between infection and death throughout the epidemic," PHE is satisfied that the "now improved information" supported its decision.
"As COVID deaths fall the number of recovered patients, particularly the very old and those with severe underlying conditions are now dying from these conditions and not COVID-19," Keith Neal, emeritus professor of the epidemiology of infectious diseases at the University of Nottingham, said in a comment.
"These non COVID deaths in survivors would become an ever-increasing percentage of the England COVID deaths being reported. It had become essentially useless for epidemiological monitoring."
The Office for National Statistics (ONS) currently adopts a different method of recording COVID-19 related deaths.
According to PHE, the ONS weekly figure counts "those where the registered medical practitioner has mentioned COVID-19 on the death certificate," but does not require "laboratory-confirmed" results. PHE does not include deaths where COVID-19 was suspected but not confirmed by a laboratory test.
By cross-checking with the available data, PHE found that, of the deaths counted by PHE where the positive test was obtained over 60 days before death, only about 30 percent are mentioned as COVID-19 related on the death certificate.
Inflated Numbers
Health Secretary Matt Hancock on July 17 ordered the urgent review of PHE's death toll from COVID-19 after receiving criticisms saying the number for England was inflated compared to the other UK nations, which were using the 28-day cutoff.
Dr. Yoon K Loke, a senior lecturer in clinical pharmacology at the University of East Anglia, and Carl James Heneghan, a professor of evidence-based medicine at Oxford University's Nuffield Department of Primary Care Health Sciences, published an article on The Centre for Evidence-Based Medicine website saying there was a "statistical flaw in the way that PHE compiles 'out of hospital' deaths data."
The article said that PHE simply looked for those "who have ever tested positive." Despite how long ago the test was, and whether the patient had recovered, if the patient died from "a heart attack or were run over by a bus three months later," his or her death would still be counted as COVID-19 related.
Paul Hunter, a professor in medicine at the University of East Anglia, however, suggested the 28-day time limit could further underestimate already underestimated deaths from COVID-19.
In a comment he said a more accurate count may eventually come from looking at excess deaths and death certificate reports, and could be as high as 65,000.
This is not the first adjustment made to reporting methodology for England and revision of figures.
At the beginning of the pandemic in March, the death toll published by PHE only included deaths in hospital settings, leaving out those who died in care homes and in the wider community. This was amended on April 29 to include all deaths where there is a positive confirmed test for COVID-19.