A video showing a woman apparently arrested for sitting on a bench in violation of England's lockdown rules over the weekend was planned and stage-managed, according to Dorset Police.
The footage, which has circulated widely online, shows police in Bournemouth leading away a woman in handcuffs as she says, "I was sitting on a bench."
Police, however, said in a statement that the video was "planned, stage-managed, and recorded" by an anti-lockdown group during a planned "flash-mob" style protest.
Three people were arrested, but only after refusing to give their personal details when issued with a fixed penalty notice—as required by long-standing laws on fines—according to Dorset Police.
Dorset Police's Assistant Chief Constable Mark Callaghan said, "We believe this video was planned, stage-managed, and recorded by members of the protest group who turned up in multiple areas, several of whom refused to engage and provide their details."
The police said that the video lacked important context.
Under current England lockdown laws, people are only allowed to leave the house for "essential" purposes.
Police have specifically said that they will question people sitting on benches, which they interpret as a potential violation of the rules.
Police can mete out on-the-spot fines for breaches of COVID-19 rules. As with all such fines, people are required by the 1984 Police and Criminal Evidence Act (pdf) to give their name and details—and can choose to later dispute the fine in court.
"If people refuse to give their details in such circumstances then it leaves officers with little option but to arrest until the details are established," said Callaghan. "Our officers would only arrest as a last resort."
In total, seven people were issued with fines, according to the police. After providing their details to police, two of those detained were later "de-arrested."
Police say that several of those attending the protest had traveled from outside of the county.
The Epoch Times has been unable to reach the woman in the video for comment.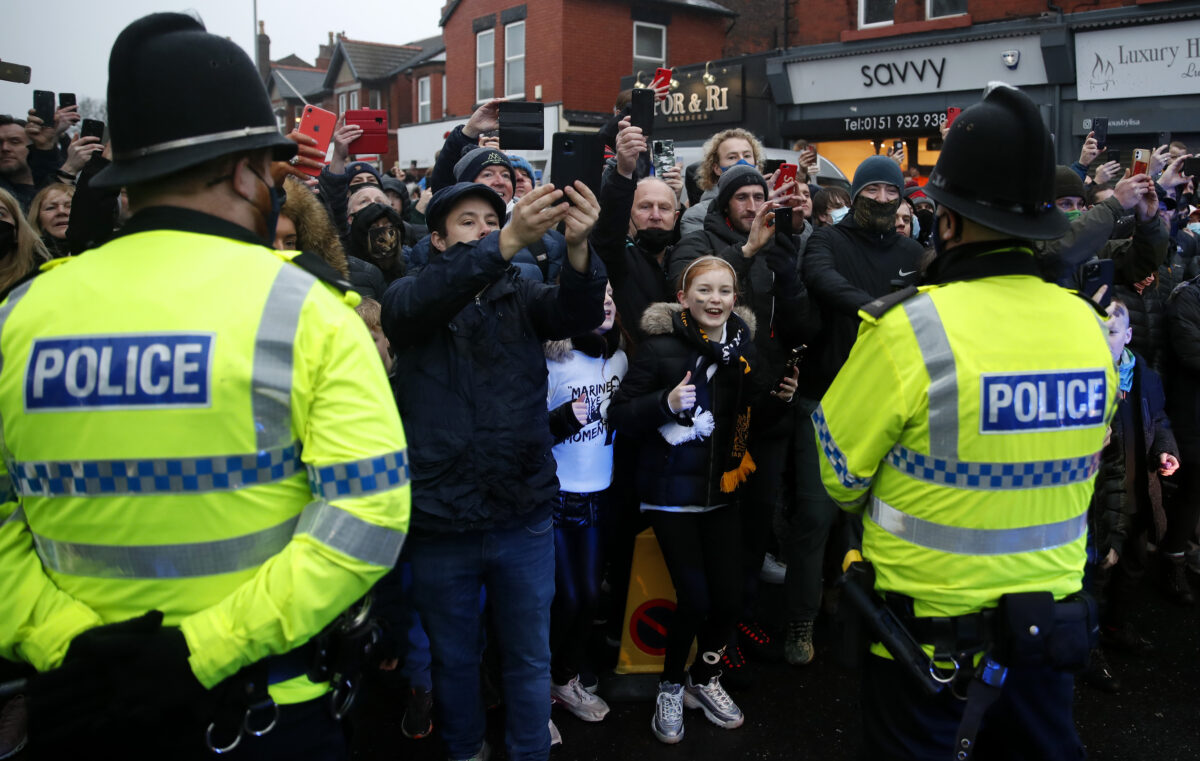 In London, 16 people were arrested on Saturday during a separate anti-lockdown protest.
With the third national lockdown, police forces have adopted a more stringent enforcing of laws put in place to try to stem the spread of the CCP (Chinese Communist Party) virus.
The UK Home Secretary has indicated she backs the approach, which includes police officers potentially checking cars and quizzing people sitting on park benches under some circumstances.
England's largest force the Met Police said in a statement that they have instructed officers to issue fines more quickly than in the past since the public is now more aware of the rules.
"In practice this will mean that all those attending parties, unlicensed music events, or large illegal gatherings, can expect to be fined—not just the organisers of such events," the Met said in a statement.
"Similarly, those not wearing masks where they should be and without good reason can expect to be fined—not reasoned with."
With the current lockdown rules allowing fewer "reasonable excuses" for people to leave their homes, the Met said that people can "expect officers to be more inquisitive" as to why people are out and about.
Fixed Penalty Notices aim to speed up and simplify the punitive process for minor offences. They can be directly meted out by police if they reasonably believe an offence has been committed, without the need to go through a court.
However, people do have the option to refuse to pay the fine and instead defend the case in court.