England Frugal, Australia Wasteful With DRS
Cricket—2013 Ashes Series
July 17, 2013 10:10 am Last Updated: July 17, 2013 10:10 am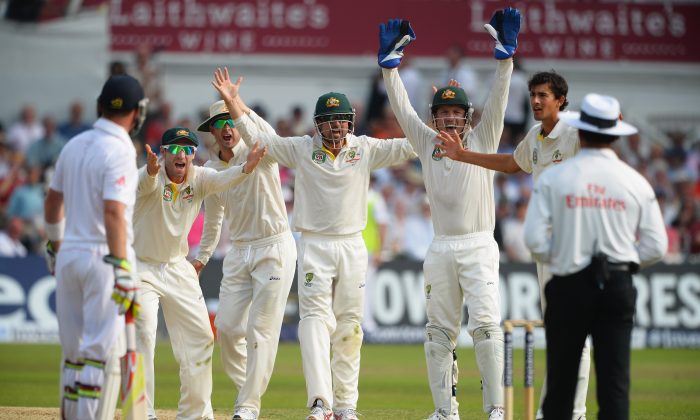 The 67th Test series has just got underway in England and the first match of the five-match series ended on Sunday (July 14). Typically, when these two cricket nations meet in a Test series, controversy follows, this time it was again all about the "howler".
England won the Test, but it was an exciting nail biting finish. With Australia requiring 311 to win in their last innings, the touring team scored 296 before their last wicket was taken.
In one of the closest Tests in their history, England beat Australia by 14 runs.
Before the start of this series, there was talk that England are too strong for Australia and that they expected England to win all five Tests. However, as usual the great sporting nation of Australia is unlikely to take such a comment lying down.
Records Tumbled
Over the many series, Australia has often come up with new players that have been instrumental in turning the matches in their favour and this series may be no different.
A new 19-year-old spin bowler Ashton Agar surprised the England team in Australia's first innings, when he showed he could bat as well as bowl.
Coming into bat at number 11 (last man) in the first innings, he scored a record 98 before being caught deep by Graeme Swan off a Stuart Broad bowl. Agar with Philip Hughes—who finished on 81 not out—produced a record 10th wicket partnership of 163 runs, keeping Australia in the match and giving them a first innings lead of 65 runs.
Agar was just two runs short of being the first-ever batsman at number 11 to score a century in a Test. He was the first ever to score a half-century from that batting position on debut. He smashed the 111-year-old record of 45 runs as the highest scorer from number 11 on debut. He faced just 101 balls in that first innings.
Maybe Agar will produce other good performances during the season and become another thorn in England's side? Maybe not. Regardless, it was an impressive Test debut on the toughest of stages for a teenager.
England scored 215 runs in their first innings and Australia were on 117 for nine wickets before Agar joined Hughes taking the Australian reply to 280.
England batted better in the second innings making a total of 375 leaving Australia to get 311 to win.
DRS Howlers
One of the main talking points to come from the match was the refusal to "walk" by England's Stuart Broad following an umpire's incorrect decision, or "howler", on Friday.
Broad, on 37 runs in the second inning on the third day, had edged an Agar ball to Michael Clarke at slips. Typically, in the spirit of the game, a batsman would declare himself out in those circumstances and walk from the field. Broad, however, went on to score a total of 65 runs.
Countless incorrect umpire's decisions have occurred in these rival's storied history, as have there been questions over cricketing ethics in the "gentlemen's game". Broad's is just another in a long list.
Introduced four years ago to eliminate the more obvious errors known as "howlers", the controversial DRS (Decision Review System) continues to have its faults. In cricket, where there are far more grey areas for technology to deal with than its tennis counterpart, the DRS allows for two incorrect challenges per innings. To be fair, despite its shortcomings, the DRS has made improvements by eliminating many umpiring errors. But howlers continue.
Australia had no DRS challenges left at the time of the shocking Broad decision. Australian captain Michael Clarke has lamented squandering their challenges on less-likely reviews earlier that innings, but didn't appear to learn the lesson.
England's captain Alastair Cook admits the final result may have been different had they had no challenges left when Australia were closing on the target.
Brad Haddin's bat had the finest of touches from a James Anderson ball, which was caught by Matt Prior. The umpire and Anderson hadn't heard the ball nicking the bat. Cook was certain it had and was able to make a DRS challenge, with Haddin given out on review.
Conversely, what if Haddin had not nicked the ball and the umpire had incorrectly adjudged him out? Clarke had again already exhausted his team's appeals to the third umpire's DRS.
Both captains have defended the DRS. This time around, Cook was frugal and effective with his challenges; Clarke was admittedly wasteful and dropped the ball. Perhaps that was the difference.
Nevertheless, the first Test was a very close contest and every cricket lover will be eagerly looking forward to the next matches in the series.
The second Test starts today (Thursday July 18) at Lords, the Marylebone Cricket Club (MCC) Ground often termed "the home of cricket" located in central London.
The Ashes
A Test cricket series between England and Australia was first played in the 1876-77 season, but the term "Ashes" came into being from a match between England and Australia at the Oval Cricket Ground in London in 1882, when England lost the match.
A mock obituary was placed in The Sporting Times declaring the death of English cricket, stating that "The body will be cremated and the ashes taken to Australia".
Ivo Bligh, 8th Earl of Darnley, who was the captain of the England cricket side at the time picked up on this term and before setting off on the next visit to Australia to play a Test cricket series he promised to "regain" the ashes.
Legend has it that a terracotta urn containing the ashes of either a burnt bail or ball were given to Bligh in Melbourne following the 1882-83 series and prior to his departure back to England.
While the Ashes (the urn) aren't the official prize, the term has been used ever since for Test series between the two countries.
There have been 327 cricket Test matches played between Australia and England up to the start of this series. Australia has won 133 and England 102, with 92 undecided matches (drawn).
In overall terms there have been 75 Test series between Australia and England. In Australia, 39 have been played, of which Australia has won 21 and England 14, with four drawn. In England, 36 series have been held, with England winning 17 and Australia 15, with four series drawn.