NEW YORK—Lord & Taylor is closing its historic Fifth Avenue location in January 2019, after one final blowout sale. The store just under 105 years old is famous for its Christmas holiday crowd-pleasing window displays.
The extravagant display will be missed by many New Yorkers and tourists. Holiday window gazers will soon have to turn to the store's competitors to satisfy their winter wonderland desires. Around 40 Lord & Taylor locations will continue to operate.
"We come every year for the windows, my wife and I, or out of town guests, and I make a point of walking by on the way to work or wherever," Lord & Taylor shopper Ron Lefton said. "I've done tens of thousands of dollars worth of shopping here over the years. It's a great store, I'll miss it."
Lord & Taylor's Fifth Avenue location, which opened in 1914, was New York's first department store to turn its sidewalk windows into animated, theatrical holiday displays. Over the years, other stores such as Saks Fifth Avenue, Bloomingdale's, and Bergdorf Goodman followed suit.
The displays became a creative arms race, featuring the most lavish, fantastic holiday scenes designers could imagine. Tourists lined-up to see window displays decked out in enchanted forests, gingerbread palaces and wintry city scapes.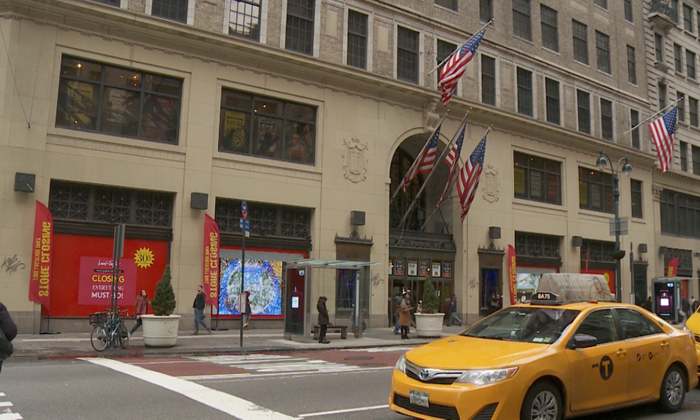 Hudson's Bay Co., the Canadian behemoth that has owned Lord & Taylor since 2012, announced in June it was closing several stores due to the company's "increasing focus on its digital opportunity, and commitment to improving profitability." The Fifth Avenue store's closure also reflects shifting consumer habits from brick-and-mortar retail to online sales.
For customers like Pat Wojcik of New Jersey, the closing marks the end of a family tradition. "I used to meet my Mom, and my sister here every single year. They lived in Westchester, I live in New Jersey," said Wojcik. "They are down in Florida now, and my Mom started crying when I told her the store was closing."
Former Lord & Taylor customer Maria Mason is very sentimental about the store's closure. "I will definitely miss it, it was a tradition," she said. "I came often with my mother, and she's passed now, and now Lord & Taylor is gone."
The building will be taken over by WeWork, the workspace leasing company, and aim to close the $850 million deal to buy the Fifth Avenue building with several investors before the end of January.
The city declared the building landmark status in 2007, which means some alterations to the building made by WeWork will require regulatory approval from the city.
The Associated Press contributed to this report.