It has been an honor for me to serve American law enforcement over the last 20 years with presentations and published works.
These works have addressed critical issues including leadership development, violence prevention, and crisis management.
The heart of my service has been ethical policing, critical to the law enforcement profession.
Ethical training and development must be the foundation for all who take the solemn oath to protect and serve.
The challenges of contemporary policing demand that we empower America's law enforcement professionals with the resources needed for standing on ethical pillars.
Protecting the Shield, Safeguarding Communities
In my home state of New Jersey, there was a recent published series addressing police misconduct.
The series was based on investigative research that examined the price paid by the public when bad cops remain on local police forces.
The series alleged that New Jersey governments throughout the state, "from the smallest towns to some of the largest cities, have spent at least $42.7 million this decade to cover-up deaths, physical abuses, and sexual misconduct at the hands of bad cops."
The publication also alleged that the abuses have left a staggering toll with at least 19 dead, 131 injured, 7 sexual transgressions, dozens of false arrests, and harassment offenses.
According to the series, in many cases local police departments were aware of, or even tolerated abuse and that damage is concealed by secret settlements and nondisclosure agreements to silence victims of abuse.
Highlighting Ethical Policing
Before continuing with honestly addressing unethical issues through training and development initiatives, let us accentuate the positive.
The overwhelming majority of America's law enforcement professionals stand on ethical principles.
There are hundreds of thousands serving in the admirable law enforcement profession who exemplify countless daily acts of professionalism, courtesy, and honor.
Some of the recent headlines memorializing the ethical foundation of our law enforcement profession include the following:
S. Marshall from York County died a hero in Harrisburg shooting; dad of 2 was Army vet
Hospitalized officer who risked life during icy pond rescue says he's not a hero
"True hero" Detroit police officer Glenn Doss Jr killed responding to emergency call
Days after Narcan training, St. Paul police officer saves a woman suffering overdose
Columbus police officer saves woman from freezing pond
Indiana officer saves child's life first day on the job
Heroic St. Joseph County police officer saves woman from fiery car
Law Enforcement Code of Ethics
According to the International Association of Chiefs of Police (IACP), the law enforcement code of ethics stands as a "preface to the mission and commitment law enforcement agencies make to the public they serve."
The code of ethics, as documented on the IACP website begins with these principles:
"As a law enforcement officer, my fundamental duty is to serve the community; to safeguard lives and property; to protect the innocent against deception, the weak against oppression or intimidation and the peaceful against violence or disorder; and to respect the constitutional rights of all to liberty, equality and justice.
"I will keep my private life unsullied as an example to all and will behave in a manner that does not bring discredit to me or to my agency. I will maintain courageous calm in the face of danger, scorn or ridicule; develop self-restraint; and be constantly mindful of the welfare of others. Honest in thought and deed both in my personal and official life, I will be exemplary in obeying the law and the regulations of my department. Whatever I see or hear of a confidential nature or that is confided to me in my official capacity will be kept ever secret unless revelation is necessary in the performance of my duty."
Empowering Ethical Protectors
Just this week, I had the privilege of discussing implementing my program titled "21st Century Policing: America's Ethical Protectors" with the top brass of a major law enforcement agency.
The agency is be commended fo recognizing that ethical training is critical to their vision, mission, and core values.
Ethical training and development is also critical to the entire law enforcement profession, and so I am taking the liberty to share some details from my program.
By doing so, it is my fervent hope that law enforcement agencies nationwide are inspired to make on-going ethical policing initiatives that include certification programs as fundamental to their mission.
My program abstract specifies the following:
First-rate law enforcement agencies recognize that a respectable program on ethical policing stands as the hallmark for professionalism for reasons including the following:
Ethical policing training and development is a proven educational model that strengthens operational efficiency, improves moral, and increases respectability.
Ethics empowers the rank-and-file of an agency with leadership skills, vigilance enhancement, and collaborative expertise.
It addresses state-of-the-art ethical principles based upon recognized issues vital to the profession. This is the most effective way of developing, attaining, and sustaining the vision, mission, and core values of the agency.
It will strengthen agency accountability and improve community trust through principles that honor expectations, performance, and responsibility.
Ethical training assists in limiting the agency's liability as it demonstrates that ethical training has been conducted by an independent respected authority.
The program, already conducted for an initiative of the Bergen County Police Chiefs Association, Bergen County Prosecutors Office, and Bergen County Sheriff's Office, has an agenda that includes the following:
Ethical policing principles
Principles of American Policing
Emotional Intelligence
Cultivating a reputation of respect
Building community trust
Neighborhood Policing
Sexual harassment
Crime prevention
Communication skills
Mental health
Conflict resolution
Crisis management
Final Reflections
America's law enforcement professionals are in critical roles of protecting and serving our communities.
We must recognize, appreciate, and support them in their challenging work.  We must also realize our shared responsibility and do everything in our power to forge iron-clad police-community partnerships.
These partnerships must be built on an ethical code, essential not only to law enforcement professionals, but on every community member privileged to call America home.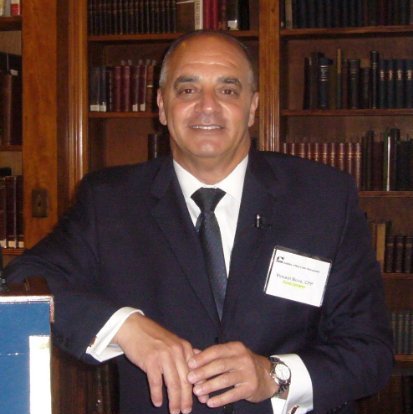 Vincent J. Bove, CPP, is a national speaker and author on issues critical to America. Bove is a recipient of the FBI Director's Community Leadership Award for combating crime and violence and is a former confidant of the New York Yankees. His newest book is "Listen to Their Cries." For more information, see www.vincentbove.com
Views expressed in this article are the opinions of the author and do not necessarily reflect the views of The Epoch Times.