Employment Tripled Expectations in August
September 10, 2013 9:05 pm Last Updated: September 10, 2013 9:05 pm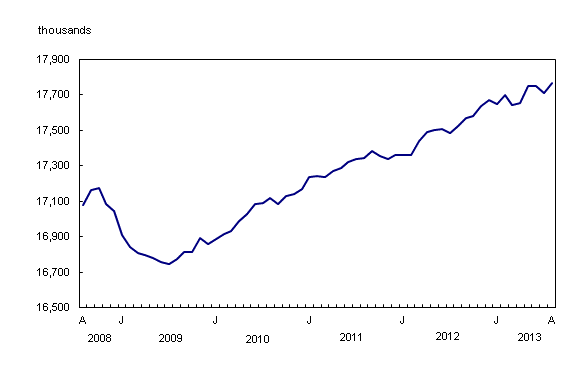 Employment in Canada went up by 59,000 in August according to latest data published by Statistics Canada, nearly tripling market expectations of 20,000. 
The rise in employment was mostly attributed to part-time work. 
According to RBC Economics assistant chief economist Paul Ferley, the increase in employment levels is consistent with the projections of the economy rebounding in the third quarter of the year after modest second quarter gains of only 1.7 percent. 
"This rebound, however, is more the result of a reversal of the depressing effect of the Alberta floods and Quebec construction strike on activity late in the second quarter of 2013," he added in a commentary. 
There was also a decline in unemployment in August, edging 0.1 percentage points downward to 7.1 percent. The unemployment rate has remained at a 7.0 percent to 7.2 percent level since late last year. 
Data Volatility
While the increase in jobs in August is good news, economists warn that the six-month average job growth remains at modest levels. 
"The volatility in recent data means we can't read too much into one month's employment print," CIBC economist Emanuella Enenajor said in a commentary.
"Nonetheless, the second consecutive monthly increase in hours worked (0.4 percent) suggests growth reached a higher gear in Q3, after cruising below the speed limit in Q2," Enenajor added. 
The Stats
With 44,000 jobs created, Ontario had the highest rise in employment in August, with gains mostly in part-time work. Alberta also had a sizeable increase with15,000 jobs added in the month.
Manitoba experienced the highest drop in employment with the loss of 3,100 jobs.
By industry, the highest gain in employment in August was seen in the health care and social assistance sectors, with 60,000 jobs gained. 
The information, culture, and recreation sector, the accommodation and food services sector, and the construction sector also saw increases in employment, with 33,000, 26,000, and 18,000 jobs gained respectively. 
The educational services and finance, insurance, and real estate sectors were among the sectors that experienced job declines, with 22,000 and 19,000 jobs lost respectively.
Although the majority of the rise is attributed to part-time work, Enenajor said the "drag" in overall job quality is offset by the fact that there were jobs created in the construction (18,000) and manufacturing (6,000) sectors. 
The gain in employment among people aged 55 and over was the highest, with a 52,000 increase.