Employees of US Company in China Strike, Fifty Injured
June 10, 2010 3:36 am Last Updated: June 10, 2010 2:20 pm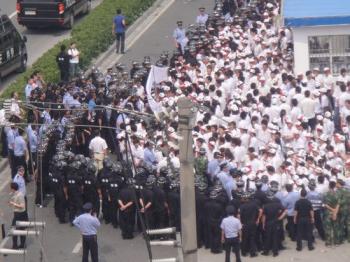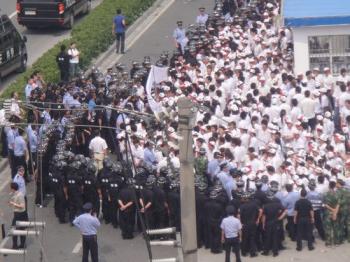 As part of the broader movement for increased wages taking place in China recently, over 2,000 employees of KOK international went on strike on June 2 asking for a raise. The local authorities in China's Jiangsu province mobilized hundreds of riot police to suppress the protestors. Fifty were injured, with five in a serious condition, one of whom is pregnant.
KOK International, commonly known as KOK China, is a U.S. company with a factory in Kunshan City, in eastern Jiangsu Province. Employees have recently demanded the company pay back wages that are owed to them.
On June 7, the third day of the strike, the company had still not responded to the employees' request. Several dozen police arrived at the scene but were unable to maintain control. Later, hundreds of riot police came and violence erupted between them and the protesters.

A protester at the scene said, "We were upset about the situation and many cried. There were so many officers. They chased the protesters and dragged them into police vehicles. A young girl who just joined the company was arrested too." "They did not even spare a pregnant woman."
According to the protester, the company admitted violating the rules, "The police should take the executives and not the employees."
KOK Machinery (Kun Shan) Co., Ltd. (commonly known as KOK China) is an independent American company founded in 1993 in Kunshan, China, as a member of the KOK Group.