Emily Lalinsky, 15, and Robert Messer, 37, Run Off in Michigan: Reports
October 29, 2013 11:32 am Last Updated: July 18, 2015 5:18 pm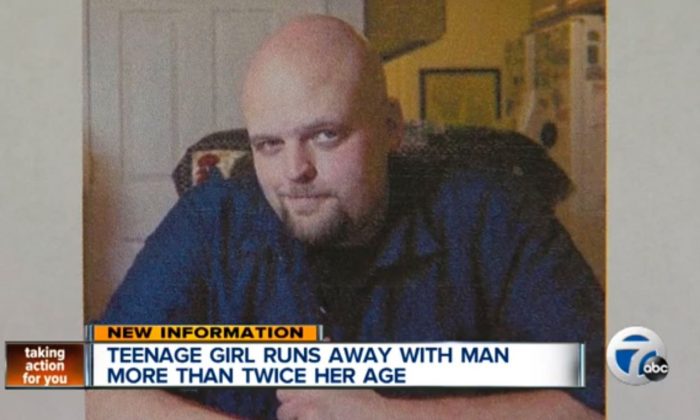 Emily Nicole Lalinsky, 15, and Robert "Bob" Messer, 37, have reportedly ran off with one another after purportedly declaring their love in a note that was left behind in Michigan.
The mother of Emily, Lisa Schwartz, issued a message to her daughter on Monday, urging her to "come home," reported the Detroit Free Press.
Messer, who has a son and apparently left him behind, was described as a family friend and both left behind cellphones and a letter professing their love.
Schwartz asked, "What 37-year-old in their right mind runs away with a 15-year-old girl?" according to WDIV.
Lalinsky and Messer apparently left her home in Plymouth Township and she told her mother the two were going on a hiking trip.
But a note was left behind.
"We are in love and cannot be apart from each other," Messer wrote, according to WDIV. "This is sad to us but our love, though we've had to keep it a secret, has been the best part of both our lives. Please be happy for us." Another part was written by Lalinsky.
"Try not to be sad and don't blame yourself. Nothing could be done I love you," wrote Lalinsky, according to WXYZ.
Schwartz said that Messer was a friend for years.
"I trusted him," Schwartz told the station. "My whole family trusted him. My daughter trusted him. Bob was always like a brother to me. Emily doesn't have a dad, so she always looked up to Bob as a dad, as a father figure. They're both very introverted. They both love photography and they both love hiking."
Police told CBS Detroit they are concerned about Lalinsky's safety.
She is 5 feet 5 inches and is around 130 pounds with blonde hair and blue eyes.
Messer is driving two-tone brown pick-up truck with license plate CNS-2754.