WASHINGTON—American entrepreneur and space tycoon Elon Musk called for an increase in funding to NASA, and said that the United States needs to reignite the public's enthusiasm for space by building a base on the Moon and sending people to Mars.
Elon Musk is best known for being the co-founder and CEO of electric car company Tesla. He is also the founder and CEO of SpaceX, the largest privately-funded space company in the world, which has successfully launched, orbited, and recovered numerous spacecraft since the company's founding in 2002.
Musk delivered the keynote speech at the 2017 International Space Station Research & Development conference (ISS R&D) on Wednesday to hundreds of space industry professionals, scientists, and NASA members and astronauts. While praising the work and achievement of the International Space Station, Musk said that United States must aim higher to advance to the next stage of space exploration.
"If you want to get the public real fired up [about the space program] we have to get a base on the moon," said Elon Musk, "we need to build a permanent presence on the moon then bring people to Mars and beyond."
The successes of SpaceX in conducting commercial space launches in recent years have largely overshadowed the official U.S. space agency NASA, which has suffered from years of limited funding and lack of public enthusiasm, especially after its space shuttle program ended in 2011.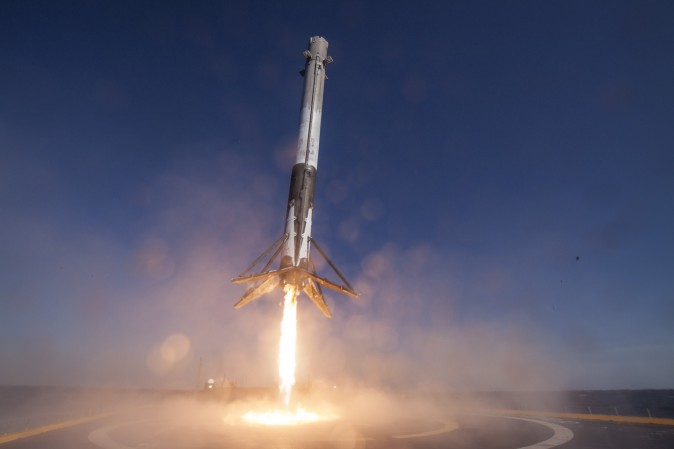 Musk said that much more could be accomplished for humanity if the United States can increase NASA's budget. NASA currently takes up less than 0.5 percent of the total federal budget, a tiny portion compared to the agency's height during the 1960s when the United States allocated almost 5 percent of the annual federal budget to NASA to fund the manned space missions to the Moon.
In outlining the progress SpaceX has been making in advancing spaceflight, Musk said that Falcon Heavy, the heavy lifting space launch vehicle the SpaceX has designed and manufactured for human space flight, could handle up to a 50-ton payload once it is sufficiently optimized.
Musk said that Falcon Heavy will be able to deliver Dragon 2, SpaceX's specially designed spacecraft capable of carrying humans, to the Moon. Although it's still not clear if SpaceX would commit to do a manned landing on the lunar surface, or just a circumlunar flight around the Moon.
Despite his public call for a manned space mission to Mars, Musk acknowledged that going to Mars can be extremely risky and harmful for the astronauts conducting the mission, and it's not meant for the faint-hearted. "It's risky, it's dangerous, and you might die," said Musk.