Tesla and SpaceX CEO Elon Musk wrote on Twitter on Tuesday that he's buying Manchester United, but said hours later that it was only a "joke."
"Also, I'm buying Manchester United [you're] welcome," the billionaire wrote on Twitter. Manchester United's stock rose by 17% percent in pre-market trading shortly after Musk published his Twitter post, reported CNBC.
Also, I'm buying Manchester United ur welcome

— Elon Musk (@elonmusk) August 17, 2022
Characteristic of Musk's non-linear logic in Twitter posts, his statement was a reply to an earlier tweet about his political views, in which he said he supports "the left half of the Republican Party and the right half of the Democratic Party."
The billionaire's post stirred up the internet. Within six hours of posting, the post had over half a million "likes" on Twitter.
'Long-Running Joke'
Hours later, however, Musk said buying Manchester United is only "a long-running joke on Twitter." Many of his 100-million Twitter followers have previously asked him to purchase Manchester United in replies to his posts.
"I'm not buying any sports teams," Musk wrote in another Twitter post.
"Although, if it were any team, it would be [Manchester United]," Musk added. "They were my [favorite] team as a kid."
It is not the first time Musk used facetious statements on Twitter. In 2018, the billion wrote on the platform that there was "funding secured" for a $420-per-share deal (totaling $72 billion) to take Tesla private, but did not make an offer. Musk and Tesla each paid $20 million in civil fines—and Musk stepped down as Tesla's chairman—to resolve U.S. Securities and Exchange Commission (SEC) claims he defrauded investors.
Manchester United is an English soccer team currently owned by the Glazer family. It is one of the world's best-supported football clubs. They have been champions of England a record 20 times and have won the European Cup, the most prestigious club competition in the global game, three times.
Forbes ranks the soccer team as third in the world in valuation ($4.6 billion), behind Barcelona and Real Madrid. The team generates annual revenue of $663 million, according to Forbes. The football club had a market capitalization of $2.08 billion, as of Tuesday's stock market close.
British publication The Daily Mirror reported in 2021 that the Glazers were prepared to sell the club but only if they were offered in excess of 4 billion pounds ($4.84 billion).
Anti-Glazer Protests
Manchester United fans have in recent years protested against the Glazers, who bought the club for 790 million pounds ($955.51 million) in 2005, due to the team's struggles on the pitch.
The anti-Glazer movement gained momentum last year after the club was involved in a failed attempt to form a breakaway European Super League.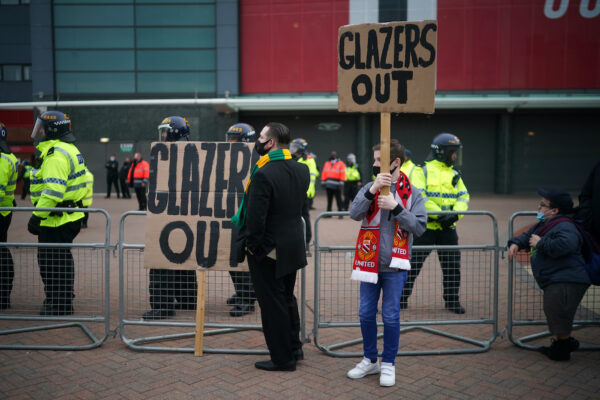 Musk, who Forbes lists as the richest person in the world with a net worth of $219 billion in 2022, is currently in the middle of a legal battle with Twitter over their $44 billion purchase deal.
Twitter has sued Musk in an attempt to force through the purchase deal, whereas Musk is trying to walk away, citing Twitter's lack of commitment to transparency about the number of bot accounts on the social media platform.
The Epoch Times has reached out to Manchester United for comment.
Reuters contributed to this report.