Elon Musk on Monday claimed that Apple Inc. is "threatening to withhold Twitter" from its App Store and implied the big tech giant hates "free speech."
"Apple has mostly stopped advertising on Twitter. Do they hate free speech in America?" he asked. "Apple has also threatened to withhold Twitter from its App Store," Musk wrote, "but won't tell us why." Musk also asked CEO Tim Cook in a post: "What's going on?"
Musk's comments about the iPhone maker come following several events that have led to speculation that Apple or Google would potentially block Twitter from their app stores. The head of Apple's App Store appeared to delete his account last week, while Apple removed all the Twitter posts from its official account around the same time—although Cook's account is still active.
Also last week, Musk wrote he would make his own phone if Apple and Google were to jettison Twitter from their stores. "I certainly hope it does not come to that, but, yes, if there is no other choice, I will make an alternative phone," he said.
Musk was also asked by a Verge reporter about whether Apple is threatening "Twitter's presence in the App Store or otherwise making moderation demands" to which he replied: "Yes." The new Twitter owner did not elaborate.
Apple and Cook have not publicly commented on Musk's claims or on whether the company would pull Twitter from its App Store. The Epoch Times has contacted Apple for comment.
Before taking over Twitter, Musk was often publicly critical of Apple. In May of this year, he wrote that the 30 percent that the App Store levies on developers' sales via its app are like having a "30 percent tax" added on. "Literally 10 times higher than it should be," he wrote in another post at the time. On Monday, Musk made similar statements.
Musk over the weekend added that new user signups to the social media platform are at an "all-time high." Signups were averaging over two million per day in the last seven days as of Nov. 16, up 66 percent compared to the same week in 2021, Musk said in a tweet late on Saturday.
Censorship?
If Apple pulls Twitter from its App Store, it would mean that the social media platform's app won't be available on any iOS-using devices other than a web browser.
Such a tactic was deployed by Apple, Google, Amazon, and others against free speech-promoting social media platform Parler in January 2021, which was decried as a form of censorship and monopolistic. A similar platform that is popular with conservatives, Gab, was removed by Apple from its App Store years before that.
Parler was restored on the App Store months later after its content moderation policies were changed, it announced. However, data shows Parler's usage significantly declined since early 2021, namely after Amazon Web Services abruptly took the platform down for about a month as the company had to find a new host.
Apple, the world's most valuable firm, spent an estimated $131,600 on Twitter ads between Nov. 10 and Nov. 16, down from $220,800 between Oct. 16 and Oct. 22, the week before Musk closed the Twitter deal, according to ad measurement firm Pathmatics.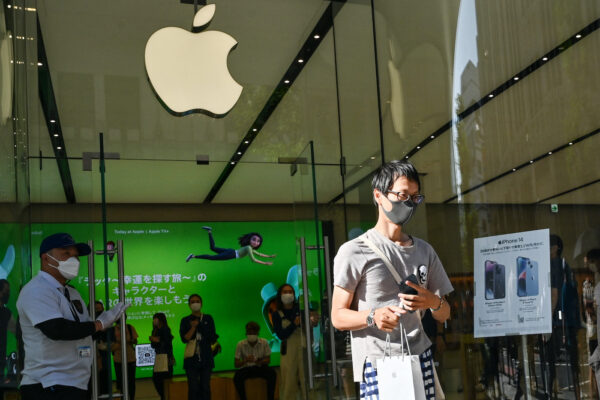 A rising list of companies ranging from General Mills to automaker Audi of America have stopped or paused advertising on Twitter since Musk's acquisition.
The reason for this, Musk recently wrote on his platform, is because left-wing activist groups have pressured advertisers into dropping Twitter. Ad sales make up a significant amount of Twitter's revenue.
Left-wing groups and activists have also complained after Musk's Twitter restored accounts belonging to former President Donald Trump, Rep. Marjorie Taylor Greene (R-Ga.), James Lindsay, Jordan Peterson, Andrew Tate, and more. Musk last week also announced "amnesty" for some suspended users, although he has said, on multiple occasions, that he won't restore InfoWars host Alex Jones' account.
LBRY, a publisher, said it, too, had a negative experience with alleged Apple censorship.
"During Covid, Apple demanded our apps filter some search terms from being returned," the company wrote to Musk on Monday. "If we did not filter the terms, our apps would not be allowed in the store."
"Who else has Apple censored?" Musk wrote in a Twitter post in response.
Recent reports from Quartz and 9to5Mac say that Apple blocked Chinese dissidents from communicating after its latest update placed restrictions on AirDrop, its file-sharing feature on iPhones and other iOS products. The November update removed unlimited use among Chinese users only.
It came as thousands of demonstrators took to the streets in Beijing, Shanghai, Wuhan, Chengdu, and other Chinese cities to protest the Chinese Communist Party's "zero-COVID" regime. Last week, a separate demonstration broke out at a Foxconn factory in Zhengzhou, China, that manufactures iPhones.
Reuters contributed to this report.