Ellen Van Dijk Wins UCI Worlds Women's Time Trial
September 24, 2013 11:53 am Last Updated: September 25, 2013 9:59 am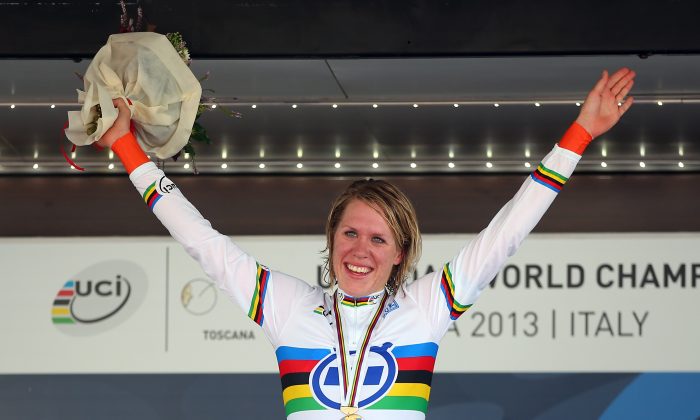 Ellen Van Dijk won the 2013 Elite Women's division Time Trial World Championship in Florence, Italy on Tuesday.
The 26-year-old Dutch rider was the only competitor to break 28 minutes over the 22-km course, beating the field by 24 seconds.
"I have no words to describe this, I am so happy," Van Dijk told Universal Sports. 'Really I am super happy."
The course suited the tall, powerful Van Dijk—the first half was flat and open, and while the second half wound through town on some narrow cobbled road, the Dutch rider had a 20-second advantage by the time she reached the twisty parts. She gained only four more seconds in the second 11 km.
"I was a little bit too excited in the beginning," she confessed. "I was like, 'Oh, I hope I can keep this up'—I was a bit afraid. My cornering was pretty okay but I suffered really hard. I think it was not so beautiful to look at my riding style towards the end but it doesn't matter.
"Twenty seconds is quite a big lead with 11 K remaining. I knew it always could happen, you can crash or you can puncture—anything can happen—but I knew that I didn't have to take all the risks in the world in the corners."
The Worlds have been rewarding for Van Dijk, she is also part of the Specialized-Lulemon time trialing squad which won the gold-medal on Monday. The 26-year-old Dutch rider also has a decent chance to win another rainbow-striped World Champion's jersey in Saturday's road race.
"Yeah," she said when asked about her momentum heading into the last event, "three rainbows would be even better."
Second place went to New Zealand's Linda Villumsen. Villumsen finished third in 2012, and has won three bronze and two silver medals in the past five years.
"It's not bad luck, if someone is better, they deserve to win," she told UCI.ch. "A place on the podium is still nice. I go close every year but something is missing. I'll try to work it out and go all the way to the top perhaps next year."
Third and fourth went to a pair of Americans, Carmen Small and Evelyn Stevens. Small edged 2012 silver-medalist Stevens by four-hundredths of a second. "It's a very bitter sweet feeling for me," Small told UCI.ch.
"Evelyn is a good friend, a teammate and a fellow countryman. We've spent a lot of time together this season and it's hard to have been beaten her and have it be so close," she said.
Both Small and Stevens are also part of the Specialized-Lulemon team which won the team time trial.