HONG KONG—Most businesses struggle when nobody wants to buy their products. Most of Hong Kong's elite tailor shops have the opposite problem.
"We are seeing an increase in demand in the United States. Tailor-made suits are becoming more and more popular," says Anthony Asaf, the founder of Empire International Tailors. Empire is one of Hong Kong's most successful custom made tailors, since 1983.   
This would be good news, if their breed of skilled Hong Kong-born tailors wasn't slowly dying out and retiring one by one—with no replacement in sight.   
"Maybe there are younger tailors across the border but it's not considered original. Hong Kong is all original. The more experience you have the better. These guys are in their 60s they have been doing it since they are 14," says Mark Asaf, Anthony's son, who takes an active part in managing the business.  
Maybe there are younger tailors across the border but it's not considered original.
, Empire International Tailors
Another Hong Kong tailor legend, Manu Melwani of Sam's Tailor couldn't agree more: "I have three Shanghainese cutters. They have been with us since 1959. They are 70-something, 80. They cut very slow but they are mine," he says. Manu took over the company from his father Sam in 1994.
Sam's, like Empire, is run by father and son (Roshan is the Melwani junior), the family has Indian heritage and they employ some very experienced tailors which are hard to replace.
The secret to their success, compared to other Hong Kong tailors, however, is their tours to the United States and Europe, starting in the 1980s. Now they boast clients from Bill Clinton to Leonardo DiCaprio.

"All my customers are famous and they are all very important to me. Leonardo DiCaprio, he comes to see me very often," says Melwani.
US Expedition
On an average day in London, New York, or San Francisco, both tailors would work from early morning to late at night to get all their customers measured up. "We are too busy to count. A room full of people and just us two," says Mark.
Likewise, Melwani always has his days fully booked out when he embarks on his annual tour. Mark and Anthony Asaf usually travel twice per year to the United States and Europe.
We had to fly out to overseas to bring the business back to Hong Kong.
, Sam's Tailor
But business wasn't always like this. In the 1980s, demand was slowing down and Melwani was afraid he would have to fire many of his 57 staff. "We had to fly out to overseas to bring the business back to Hong Kong," he says.
So he went overseas and reconnected with old customers who at that time didn't want to travel to Hong Kong for their suits anymore. Today his business is booming, but he doesn't want to disclose how many suits he produces exactly: "That's private. We never talk about how many suits we sell."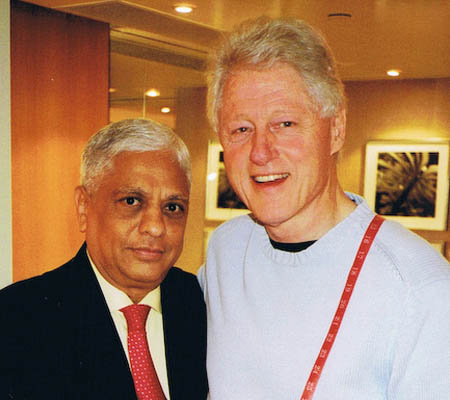 For Empire, the issue wasn't as pressing but equally lucrative: "The customers invited me. At that time they used to write letters or fax: Can you come, my colleagues are interested," says Anthony Asaf, who adds: "Fax was a big thing at the time."
Value for Money
So what makes clients all over the world go crazy about the custom made suits? "Off the rack doesn't fit anybody," says Anthony Asaf.
"You will never know who is doing the work nowadays," Melwani cautioned.
Other countries also make high quality custom suits, but it's the value for money that counts, as well as the swiftness of production. Melwani claims Hong Kong prices are about half the price of custom made suits in Japan and also much cheaper than London's tailor street Savile Row. "Hong Kong tailors just do it cheaper and faster," says Mark Asaf—oftentimes four business days is enough.  
"In New York, if you have an Italian tailor, it takes a few weeks to make a suit. Fantastic job but it will cost you. Just like Savile Row," says Mark Asaf. Indeed, the entry price for a fully canvassed suit made on company premises in Kowloon, Hong Kong, ranges around $700, depending on the fabric.
For a high class Cesare Attolini suit ordered in New York and made in Italy, the price starts at ten times that.
The two Hong Kong tailors are cost competitive for three reasons. Wages for experienced tailors are lower on average and they produce more of a suit per hour worked, according to Empire.
I don't have to work. I could rent it out or sell the place.
, Sam's Tailor
In addition, both Empire and Sam's own the properties where they have their retail stores, as well as their workshops, so they aren't bothered by high rents or mortgage payments.
"I don't have to work. I could rent it out or sell the place. But I have been established 50 years and I love my job. I'm 65 years old now. I love to meet the people and talk to the people and see the people get happiness from my clothing," says Melwani.
Also, the tailors don't have to pay any import duties on the fabrics they import: "No tax, no duty. You can get great variety in Hong Kong at a good price. I think it's not available in any other country. We import anything," says Anthony Asaf.  
Quality and Style
These factors don't necessarily mean the quality is worse than the competition. All fabrics used are the finest from Italy or England, like Loro Piana or Holland and Sherry. The suits are fully canvassed—never glued—and handmade.   
Another key factor in terms of quality is experience. Melwani learned his trade on Savile Row in London when he was 18 years old. Together, Sam's and Empire have 100 years of business experience.
Melwani recalls his times in England when he spent months sweeping the floor before doing any tailoring.
When he asked his teachers they said: "We are looking at your temper. How much you can control the sweeping. If you are doing it very fast it means that your stitching is bad. If you can clean the floor at 45 degrees, the stitching is done properly."

This experience is reflected in high quality products, garnering repeat customers. "All my customers are old customers," says Melwani, who doesn't even need to advertise. "I just send my emails to my clients," and they come flocking in. The same is true for Empire.     
Style
In terms of style, the Hong Kong tailors offer a broad spectrum, because of the legendary Shanghainese tailoring heritage.
"Hong Kong comes in as a superstar because Hong Kong has always been the West's gateway to China in the past 100 years," says Mark. So some of the Shanghainese tailors who learned their trade from Italian, Russian, and British tailors before setting up their first shops in China, later went to Hong Kong to explore the booming colonial business there.
Melwani learned his trade in England but makes use of the Chinese tailors as well. "I cut my English way, but I have six different cutters with me," he says.

Sam's looks for style ideas by following the big designers in New York and Europe. "In the UK they have the old colonial type of things. People would still be wearing a double-breasted suit. Now they are coming back. We have already seen it," he says.
Mark Asaf at Empire is trying to make the United States a bit less conservative, especially Washington D.C. "We call it the city of navy blue suits," he says, adding that most of them are baggy and come with pleats and cuffs, which is very conservative.  
Mark Asaf at Empire is trying to make the United States a bit less conservative.
"We are pushing our clients away from that. We have a strict ban on pleats and cuffs," he says.    
However, there is one city in the United States which is different: "New York is more fashion forward," he says.
Future
As to how the future demand will be met, both tailors don't really know where to get new quality workers.  
"Now there are a lot of youngsters who cannot control their temper. In 1975 they used to hit us on the head, that the stitching was not right," Melwani says of how he learned.
Not many young people would go through such an experience now. "Fashion majors get taught different things. These people won't spend the whole day in a workshop doing this, like in the old days. People need more of this," he says and holds up his mobile phone.