Eli Manning Wife Abby McGrew and Children Ava and Lucy (+Pictures)
September 8, 2014 6:23 pm Last Updated: September 8, 2014 6:42 pm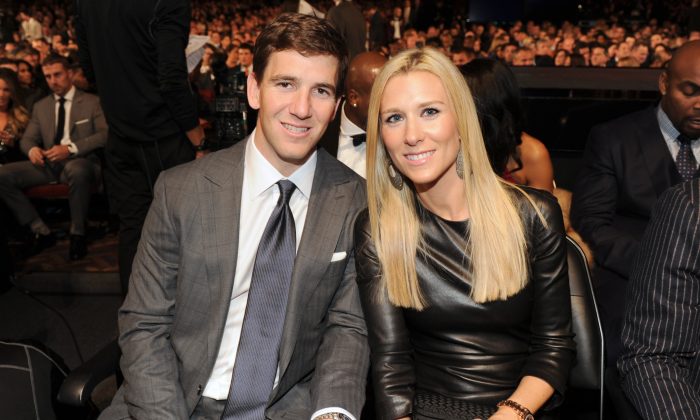 Eli Manning, the New York Giants quarterback, has his first 2014-15 game on Monday night, and fans are wondering about his family.
Manning, 33, has been married to his wife Abby McGrew, 30, since 2008.
In April of that year, the couple exchanged vows in front of the Sea of Cortez in Cabo, Mexico, reported the New York Daily News. About 60 family members and friends attended the ceremony, including brother Peyton Manning.
The wedding was estimated to cost around $500,000.
Peyton and his brother, along with other brother Cooper and some friends, exchanged tales about Eli before the wedding while McGrew worked on her tan at a different part of the resort.
The Daily News noted that the couple "is famously low-key."
McGrew was born on August 25, 1983 in Nasvhille and has two sisters. She met Eli while they were both attending Ole Miss. Abby later moved to New York to study fashion, and worked for a time at Pamela Roland.




Eli and Abby have two daughters, the first of which, Ava Frances, was born in March 2010. The second, Lucy Thomas, was born in June 2013.
Eli told Parents magazine that parenting brings more surprises than any football game.
"In terms of the Super Bowl, I know what to expect," he said. "With parenting, this has been a brand-new experience. It's life-changing. Every day, you learn something new."
He added that he enjoys having girls and doesn't necessarily want a boy.
"I think a lot of guys want a son because of all of the things they do while growing up," he said. "Having a girl is a blast. I don't care what happens down the road, as long as the children are healthy."
MORE:
Reggie Bush Wife Lilit Avagyan: Couple Married Earlier This Year, Have Daughter Briseis (+Photos)