Elena Ilinykh and Nikita Katsalapov Russian Figure Skaters Split
April 7, 2014 6:22 pm Last Updated: April 7, 2014 6:28 pm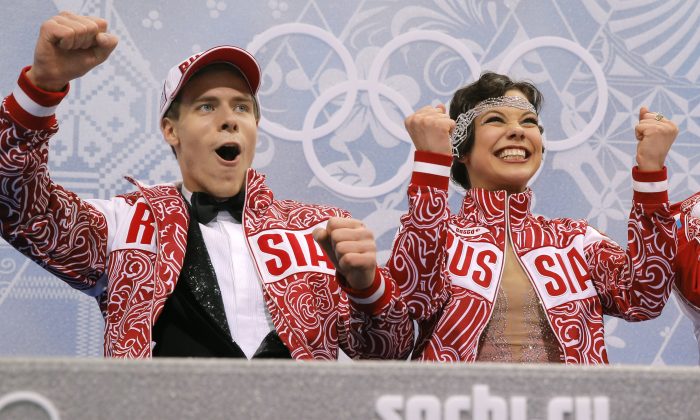 Olympic figure skating medalists, Elena Ilinykh and Nikita Katsalapov from Russia have announced their split. 
The duo's Tumblr page had fans question the separation, with one fan asking "Did you stop your blog? because there's no more news since the wc in Saitama;;; What's going on?" and Katsalapov answering on April 7: "Hey, everyone! I suspended my blog, yep. I don`t know, how everything will ending, what our Federation will do, but I know that now I`m not ready for publishing anything. I hope you`ll undertand me. Thank you!"
On their Facebook page, fans also expressed an outpour of regret. "This is the worse news I ever heard," wrote Facebook user Chiara Parodi. 
They announced their split in an interview with R-Sport, a Russian news site.
The site wrote that the 19-year-old Ilinykh will skate with former world junior champion Ruslan Zhiganshin, and Katsalapov will team up with Zhiganshin's previous partner, Viktoria Sinitsina.
Ilinykh and Katsalapov were part of the Russian team who took gold at the Sochi Winter Olympics and bronze in the ice dance category. 
"Today, Lena [Ilinykh] and I are contacting the federation with a declaration that we will be skating together," Zhiganshin told R-Sport. "Lena and I already had a test skate last week."
According to R-Sport, Ilinykh did not want to split from Katsalapov.
"Nikita came up to me April 4 at our scheduled medical exam and thanked me for my contribution and said that he won't compete with me any more," she said. "The initiative to split up our pair came from him, I'd like to underline that."
The general director of the Russian Figure Skating Federation, Valentin Piseev opposed the split as well. 
"How is that possible, to break up two pairs of the top three in the country and to try to destroy dance in Russia?" he said in the report.