Electric Vehicles Set to Surge in Coming Decade
February 12, 2009 12:48 am Last Updated: February 12, 2009 12:23 pm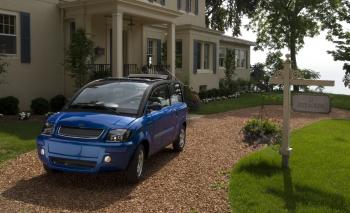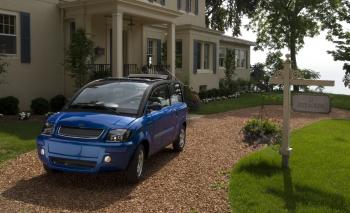 If the Detroit auto show last month is anything to go by, the race to go electric is well and truly on. Almost every automaker at the show—from Ford to Toyota to General Motors —unveiled plans to create a mass-produced electric car within the next few years.
Nissan's fully electric Nuvu is expected to be on the market by 2010 as is GM's Chevy Volt, a plug-in hybrid. Just this week, Ford announced that its 2010 Ford Transit Connect, a commercial delivery van, will be available with a gas or battery electric powertrain in the second half of 2010.
Even before the current auto industry woes, the high price of oil and the growing popularity of hybrids made it obvious that change was coming to the industry. In fact, many believe the next decade will witness the end of the noisy, polluting, gas-guzzling combustion engine.
"It's a big horse race, it's unbelievable right now. There isn't a carmaker on the planet who doesn't have an electric car program. It's all about the electric drive," says Ian Clifford, founder and CEO of the Toronto-based ZENN Motor Company.
ZENN (Zero Emission, No Noise) manufactures a low-speed, fully electric urban vehicle designed for streets where speed limits are 50 km/h or less.
It's also all about "the challenge of the battery," says Clifford, as current battery technology is still not sufficiently developed. This has been the Achilles' heel of the electric car industry, he says, and "the fundamental reason why we don't have more electric cars on the road than we do today."
Batteries have historically been too big, heavy and expensive, are sensitive to temperature, and take a long time to recharge. They also don't hold a charge for long enough, which is where a California-based company called Better Place comes in.
Better Place provides infrastructure for charging electric vehicles powered by renewable energy. The idea is to make quick charging and battery exchange points for electric cars just as prevalent as gas stations are today.
Shai Agassi, founder and CEO of Better Place, has said that if a convenient electric car charging network isn't in place, even if electric cars are widely available people won't buy them. So he's made it his mission to bring this about, and so far several countries, as well as Ontario, California and Hawaii, have signed partnership agreements with Better Place.
Lithium-ion batteries, which most car manufacturers plan to use in their electric vehicles, provide about 20 times less energy per pound than gas, according to an article in Toronto Life magazine. That's roughly twice the energy density of the nickel-metal hydride batteries used in hybrids like the Toyota Prius.
But ZENN is onto something that could leave all the others in the dust. The company is strategic partners with EEStor Inc, a small Texas-based firm that claims to be on the verge of creating a breakthrough supercapacitor with extremely high energy density, meaning it can hold a huge charge in very little space, all while weighing less than 100 pounds. It can also store energy—permanently.
"It's a very different concept from what we're used to thinking about batteries," says Clifford. "It's a paradigm shift."
At its R&D facility in Toronto ZENN has already started work on a new four-door, five-passenger sedan to take advantage of the technology. The cityZENN will be a fully certified vehicle with a top speed of 12 km/h/ 80 mph and a range of 400 kilometres/250 miles with an EEStor battery rechargeable in less than five minutes.
ZENN has exclusive ri ghts to EEStor's technology for vehicles under 1400kg, and all retrofit conversions of existing internal combustion engines. Clifford foresees the day when it will be possible to remove the internal combustion drive system from existing gas-powered cars and replace it with an electric drive system.
"It takes an average of 20,000 gallons of water to produce a car—that's drinking water—not to mention all the raw materials and energy that goes into every vehicle on the road. If we can give these vehicles a brand new lease on life and reuse all of this investment that we have in the cars on the road today, this is hugely significant," he says.
U.S. President Barack Obama's goal to have 1 million plug-in electric vehicles on the road by 2015 is seen by industry executives as a major step in shifting transportation away from fossil fuels.
"That's the best thing that's happened, I welcome that with open arms," says Michael Elwood, chairperson of Canada's Electric Vehicle and Technology Roadmap, a task force that is making recommendations to the Canadian government on plug-in vehicles.
The task force consists of a wide range of stakeholders, including automakers Ford and GM, the Canadian Auto Workers Union, some academic institutions and hydro companies. The group has set a target to have 500,000 plug-in vehicles, both hybrids and pure electrics, on Canadian streets by 2018.
Elwood, who is also vice-president of marketing at Azure Dynamics, a company that specializes in hybrid and electric drive technology, says it's important to have the energy storage systems produced within a tight geographical area to avoid shipping batteries all over the world.
"It's really imperative that Canada starts to develop a battery consortium or center where energy storage becomes the main focus, the main thrust. We're making that recommendation in the roadmap."
In its first infrastructure project in Israel, Better Place is building 500,000 charging points across the country. It has teamed up with Renault-Nissan, which will supply the electric vehicles for the project by 2011. Better Place is also currently setting up in Denmark.
Elwood questions the need for Better Place in Canada as yet, because he says the power grid can currently handle recharging up to half a million cars without having to add any surplus.
Clifford says if 80 percent of cars were to suddenly switch to electric, North America has the capacity to recharge them if it was done in off-peak periods.
"If you have all these cars recharging in the middle of the night, the capacity exists to do that. But absolutely, clearly what's going to have to happen in the future is we're going to have to move towards much more sustainable and renewable aspects of power generation."
Aside from transportation, Clifford says the technology being developed by EEStor will play a "massive role" in the generation and distribution of electricity because it can store energy throughout the electrical system.
"That's one of EEStor's biggest applications globally," he says, adding that for electric vehicles to really catch on they have to be both affordable and supported by an efficient global electrical system.
"I think before we'll see mass consumer adoption of electric vehicles, you've got to have a solution where a normal consumer can get into an electric vehicle and say, 'Hey, this does everything my gas-powered car used to do and more.' That's the point where there's no resistance."