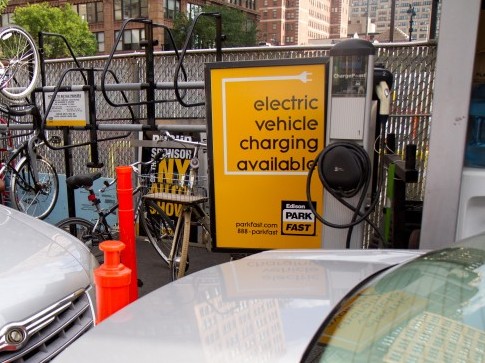 NEW YORK—In an effort to encourage more New Yorkers to purchase and drive hybrid and electric vehicles, more than 325 new electric vehicle charging stations will soon be installed statewide, Gov. Andrew M. Cuomo announced Wednesday.
Ten companies, municipalities, and other entities will be involved in setting up the new stations. The NY State Energy Research and Development Authority and the U.S. Department of Energy provided the $4.4 million to fund the project.
"With New Yorkers facing higher prices at the pump, the state is stepping up to make owning an electric vehicle an affordable and convenient option," the governor said in a press release.
New York City currently has a fleet of 430 electric vehicles, including the NYPD's 20 Chevy Volts, which are hybrids that start on stored electricity and switch to gas after about 45 miles of driving.
Very few charging stations exist in the state, and those, which are available are hardly used.
Edison Park Fast, a parking garage, lists a free electric car-charging coupon online, available for use at 15 New York City and 3 New Jersey locations. At one of its garages, on the corner of 35th Street and Ninth Avenue, the manager said the charging station gets utilized "once or twice a month, though it depends on the month." Two parked cars could be seen blocking the facility, which was installed in 2010 and hailed by the mayor at the time for helping "meet the ambitious goals in PlaNYC, our long-term sustainability agenda," according to a press release.
Electric cars are still very new, and they have been slow to catch on with consumers.
In the past several years, "we've seen no uptick" in demand, said the president of an electric vehicle company located outside New York that specializes in converting conventional vehicles to hybrids, who asked not to be named because of business conflicts. "Lots of interest, but when they've heard the price ($15,000 to $30,000), no takers," he said.
A sales agent with Bay Ridge Nissan said the Nissan Leaf, an all-electric vehicle with an average battery range of 100 miles, has been selling. Online, models start at $35,200 at Nissan of Manhattan and are listed for $33,017 at Bay Ridge Nissan. Part of the buying process includes a home visit to inspect whether it can support the installation of a personal charging station.
The sales agent said that he knows of "up to five" charging stations in the city. Locations of charging stations are programmed into the vehicles' built-in GPS.
Whether to fund stations before electric cars take off—"that's the classic chicken and the egg question," said Justin Kitsch, of the national advocacy group, Electrification Coalition. Consumers may not buy without many stations around, yet those behind building the stations want to see them being used.
Beam Charging, which already has 25 charging locations citywide listed on its website, will install 28 new charging stations in separate parking garages around Manhattan with $400,000 of Wednesday's announced funding allocation. The new stations will be monitored and tracked for data "to determine how well such charging stations are used," according to a release.
The development authority is still seeking proposals from companies able to participate in the acceleration of electric vehicle use in the state. The deadline for proposals to access an additional approximately $4 million in funding is July 25.
Projects announced today include seven experimental charging stations, which will enable customers to access innovative reservation and payment systems, and 124 stations at train and bus stations, airports, and parking lots.
Additional projects include outfitting five Marriott hotels around the state, seven charging stations in Albany including one at Times Union Center, and 24 stations in Rochester, including one at City Hall.
The Epoch Times publishes in 35 countries and in 19 languages. Subscribe to our e-newsletter.