Elderly Man Self-immolates to Protest Forced Relocation
February 4, 2010 3:21 am Last Updated: February 4, 2010 3:21 am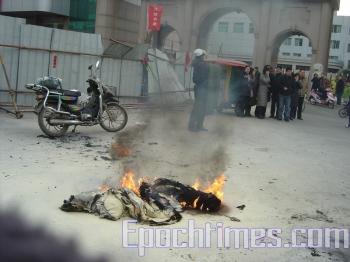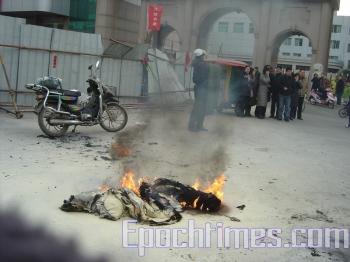 At about 3:15 p.m. on Jan. 26, 2010, 68-year old Zeng Huanjia of Yancheng City, Jiangsu Province poured gasoline over himself and set himself on fire in front of his home on Yingbin Road, causing extensive burns. He was sent to Shanghai Reijin Hospital for treatment and his condition is still critical.
At about 3:00 p.m. on Jan. 26, 2010, three policemen from the local public security bureau came to subpoena Zeng Huanjia's eldest son, who was not at home. They met Zeng Huanjia who had just come home. The policemen stopped him at the door and told him: "If your son does not show up, we will force him to go." Zeng did not want to accept the subpoena notice, so he said: "you are pushing me to death." Then he ran out into the road and set himself on fire.
Policemen Standby without Helping
Mrs. Sun, Zeng's neighbor, told The Epoch Times: "I was at home when I heard screams outside. We went out and saw him on fire. There were many people surrounding him. I called 110 (emergency number) for help. I was shaking."

Mr. Shang, Zeng Huanjia's son-in-law, said, "When Zeng's youngest son went out, Zeng was already on fire. He yelled for help, so four of us rushed out to extinguish the fire. The three policemen were watching from behind. It took us a while to put out the fire, about 30 minutes. Later one of the policemen who had just graduated from school got a fire extinguisher. The other two stood aside and stole the subpoena notice that was left at our home."
"Currently my father-in-law is in a aseptic ward. There will be a big operation today. He is still in a critical condition. He has extensive burns. The doctor says he has third degree burns over 75 % of his body but we think it is more serious than that, as there is not even one part of his body that was untouched. When we were trying to put out the fire, his mouth was full of blood, and the skin on his body and head was badly burnt. It was extremely terrible. His daughter's face and hands were burnt when she tried to save him."
The head of the police station, Mr. Wu, was on the site, but he left when Zeng's family asked him for help. When the medical vehicle arrived, they did not help Zeng's daughter.
During a telephone call to the Yancheng City Tinghu District Government Office, a staff member said that they were actively trying to save Zeng, and told the reporter to call the Department of Propaganda for more information.

According to state-run media Xinhua.net's Jiangsu news channel, around 8 p.m. on Jan. 27, a spokesman for the Tinghu District,Yancheng City government stated that the Yingbin Rd. expansion project is one of the key projects in the city. Currently all 43 families and four businesses have signed an agreement on demolition and relocation, except Zeng's family. However, the local residents indicate that the government uses different ways to coerce people to sign the agreements.
Mr. Sun said: "The compensation is very low, but we have no choice. They do not allow us to sleep. They knock on our doors, set off fire crackers and toss trash here. This is our third relocation. Now we need to move again. We were forced to sign the agreement."
According to the residents, 18 families have been relocated three times.
On Jan. 7, the local Planning Bureau sent people to demolish Zeng's house supposedly because of Zeng's illegal construction. Zeng's eldest son poured gasoline on himself to protect their home. Mr. Shang said, "We have had this home for more than ten years. They sent many policemen. We used our lives to protect our home and then the police left."
At 3:00 p.m. on Jan. 26, the local public security bureau subpoenaed Zeng's eldest son, which caused the tragedy.
From Jan. 17 to Jan. 19 Yancheng City officials rented two floors at the Yinyuan Hotel and summoned all the families to be relocated. They conducted 72 hours of interrogation, threats and violence to force the families to sign the demolition and relocation agreement.
Mr. Shang said: "The Demolition and Relocation Office increased the pressure upon us. They use the public security bureau, police station, military police, and unidentified others , etc, to pressure the families continuously for 72 hours. We were the only family who did not sign the agreement."
Zeng's family was forced to relocate for three times in the past 20 years. They noted, "We still support the government's construction project. We just beg the government to exchange a property close by, we do not mind if it is not a new home. Please do not push us to death. My mother died of the pressure after the third relocation. We are deeply in debt. We have 13 people in the whole family, and only three of us are employed. We depend on this home for our business. But the government said this request is unreasonable."
Read the original Chinese article.