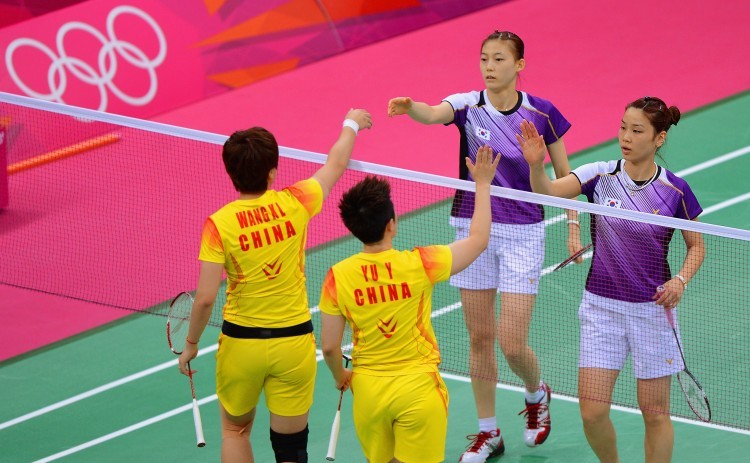 Eight female badminton players were disqualified from the London Olympics on Wednesday amid allegations of deliberately trying to lose their group playoffs in an attempt to secure better positions in the later stages of the competition.
The athletes included two pairs from South Korea, one pair from Indonesia, and the top-seeded pair from China.
The fiasco means that half of the eight teams will be missing from the quarterfinals games on Wednesday, throwing the Olympic badminton tournament into disarray.
The contested games that saw players deliberately serve into the net and hit wide triggered a stern response from the International Badminton Federation and the London Olympic organizers.
All eight were charged with "not using one's best efforts to win a match" and "conducting oneself in a manner that is clearly abusive or detrimental to the sport," reported AFP.
"It's unacceptable. And I know the badminton federation really well and they will take that really seriously. It is unacceptable," said London Games boss Sebastian Coe according to Reuters.
The angry crowds responded to the unruly performance with loud boos on Tuesday after sitting through the unentertaining matches.
"Who would want to sit through something like that?" Coe said on Wednesday morning before the disqualifications were confirmed.
However, similar match fixing has happened before at badminton tournaments. AFP reported on China's doubles players Yang Wei and Zhang Jiewen deliberately losing a match at the 2003 World Championship in Birmingham.
But the disciplinary meeting looking into that episode was held quietly at a later date and a small fine was imposed on the two Chinese players for allegedly not trying, said the report.
The Epoch Times publishes in 35 countries and in 19 languages. Subscribe to our e-newsletter.