Eight Chinese women who were living in Florida were arrested in connection with an international sex trafficking ring that also ensnared New England Patriots owner Robert Kraft.
Kraft last week was charged with two counts of soliciting a prostitute, according to police.
Now, Lan Yun Ma, 49; and Yaping Ren, 27, of Orlando; Lixia Zhu, 48, of Stuart; Yan Xu, 51, of Sebastian; and Ruimei Li, 48; Hua Zhang, 58; and Lei Wang, 39, were arrested after an 8-month investigation into a human trafficking operation, the Daily Mail reported.
Thanks be to God they were caught. Evil women!
Marin County Sheriff William Snyder said officials have been following as much as $20 million moving in and out of China, according to USA Today.
"The tentacles of this go from here to New York to China, in Florida from here [Marin County] to Orange County," he stated.
Several spas have been closed, and at least 100 men and 200 people in total have been implicated in the investigation.
The women who were used in the spas are being treated as victims rather than paid sex workers.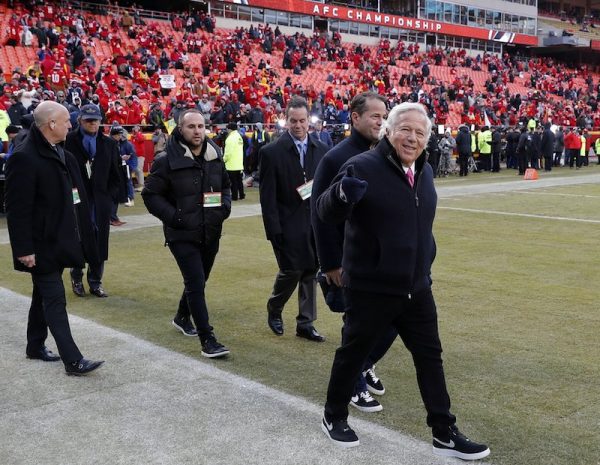 The women speak no English, only Cantonese or Mandarin. They came to the United States on temporary work visas, according to USA Today.
"It was clear that multiple women were working and living inside the spas. They were cooking on the back steps of the business," Snyder also stated. "They were sleeping in the massage parlor on the massage tables."
Police told CBS Miami that Florida Department of Health saw that the Orchids of Asia Day Spa, where Kraft allegedly went, housed two rooms with beds, pillows, and sheets. There were dressers and a fridge.
The findings were "consistent with individuals living inside," the affidavit said.
HUMAN TRAFFICKING PROBE – It's now a sprawling sex trafficking investigation involving many jurisdictions and ensnaring…

由 CBS Miami 发布于 2019年2月26日周二
"It was clear to us that this was a trafficking case because of the circumstances I enumerated: They're not leaving, they're there 24 hours a day, the hygiene was minimal at best, just a bathroom," Snyder said. "So we took it upon ourselves to not do what could be the easy way out … and we turned it into a trafficking case."
He said that the women were cooking on the back steps of the spa and were sleeping on the massage tables, according to CBS Miami.
The sheriff said the women didn't get days off and worked long hours as sex workers. They didn't have access to transportation and were moved around from location to location.
Some averaged as many as eight clients per day, he said.
Details of an international human trafficking operation tied to prostitution in massage parlors in Florida and…

由 TCPalm 发布于 2019年2月26日周二
The victims, he said, were lured to the United States under the promise that they would become housekeepers or waiters. When they arrived on American soil, their passports were taken away by handlers.
"The problem with these cases is that the coercion is so subtle sometimes that it's impossible for us to uncover," he added. "The coercion is not that they're at gunpoint. The coercion is more subtle, nuanced and more difficult to discern. They may have loved ones in China and they're afraid if they cooperate. They look at the police here as their enemy."
But Snyder said the arrests are "the tip of the tip of the iceberg."
"I would contend today that it's the men in the shadows that are the monsters in this equation. And without moralizing, none of this would happen if those men were not availing themselves and participating in this human misery," he added. "Wherever you find end users who will use this, you will find these spas."