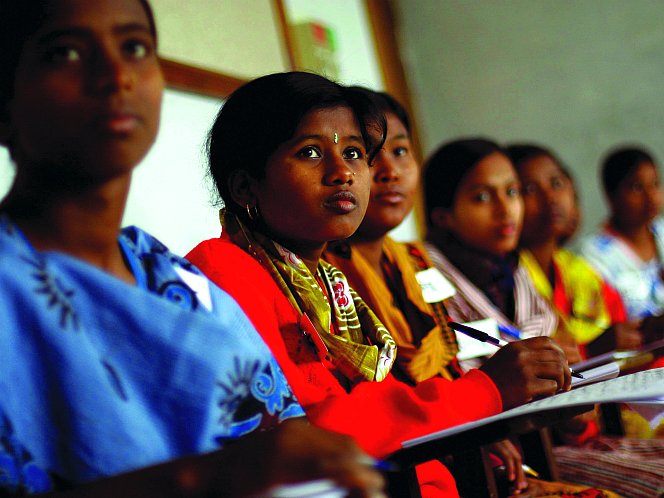 Education was on the rise worldwide after the United Nations Educational, Scientific, and Cultural Organization (UNESCO) set six global education-for-all goals for in 1990. For the first time since then, however, growth in education is at a standstill—especially for girls, and especially in Pakistan.
Poverty and cultural constraints stand in the way.
Malala Yousafzai, a teenaged Pakistani girl and education advocate, was shot and wounded by the Taliban earlier this month. A UNESCO report released last week shows that children in Pakistan are particularly behind. Pakistan has about 5 million children out of school—3 million of them are girls.
"If they don't want a failed generation, Pakistan really needs to make education a priority," Pauline Rose, director of the report, said in a phone interview. "I think this is really worth it, especially after the tragic shooting of Malala, which really highlighted this problem," Rose said.
Pakistan invests around only 2.3 percent of its Gross National Product on education, one of the lowest in the world.
Nigeria is also behind. In northern Nigeria, school is thought to be incompatible with the Muslim way of life, explained Rose. In Ethiopia, girls are getting married very young and leave school, including primary school.
Globally, 61 million children are out of school. Nearly 775 million people are illiterate, and two-thirds are women. One-quarter of young people—91 million—in South and West Asia fail to complete primary school and lack skills for work. The same holds for one-third of young people—56 million—in sub-Saharan Africa.
"One in five young people do not complete primary school [in 123 low-income countries], but they need the most basic skills to ensure their own living and to contribute to society," Rose said.
She encourages nations to see the benefit of investing in education. Every dollar spent on a person's education yields $10–$15 in economic growth over that person's working lifetime. Nepal and Niger spend even less than Pakistan on education: 0.1 percent of their GNPs. Madagascar and Senegal spend less than 0.02 percent.
Some nations are recognizing the benefits. India aims to train 500 million of its poor urban youth by 2022 in six-month courses and apprenticeships run by the private sector. Afghanistan is running accelerated learning courses for those who missed out on schooling and need another chance to learn skills.
Rose was astonished by the energy and enthusiasm of the young people she met during the preparation of the report. Regardless if they were rich or poor, all of them said one and the same thing, "We want to make a difference for our country."
"That is what has really stuck in my mind, how much enthusiasm there was, and hope," Rose said. "But, at the same time how desperate they are because they could not see a way out, they could not see the opportunities, which could help them realize the dreams they had."
The Epoch Times publishes in 35 countries and in 19 languages. Subscribe to our e-newsletter.