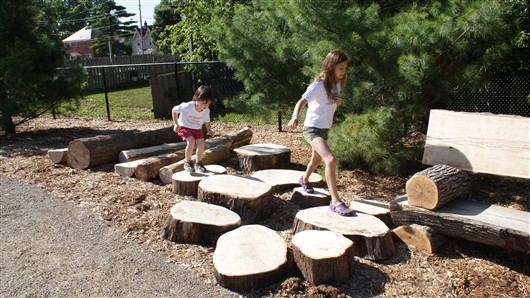 Edmonton will soon be getting its first "natural playground," an imaginative play space that aims to help kids get connected to nature.
Offering an alternative to standard plastic, concrete, and steel models, the playgrounds incorporate natural wonders such as fallen trees, local horticulture, and art.
The play spaces are growing in popularity and have started to make their way into public parks, schools, and childcare centres across the country.
Funded through donations and grants, the first Edmonton playground to get a natural makeover is Donnan Park, a space near the Mill Creek ravine, set to be completed within a year.
The revamped play area will include plenty of greenery and trees, along with a climbing rock, a sideways-growing tree, swings, a sand box, a creek with an old-fashioned hand pump, and a community garden.
"What we have planned is basically a wonderful garden that everyone can come out and play in," says Kory Baker-Henderson, co-chair of the committee working to bring in the Donnan Park natural playground.
"I live about a block away from the park and really wanted something beautiful for our families and our community to enjoy."
Baker-Henderson says it's important for kids and families to have access to nature, especially in urban areas where it's not always "at your back door."
"There are many natural learning opportunities that children are exposed to in a living playground from participating in gardening or simple sitting in a tree, fostering an overall respect for themselves, others, and nature," she says, adding the park will cost about half as much as traditional plastic and steel models.
"Natural playgrounds are for all ages since there are things for everyone to be involved in from gardening, playing, or simply sitting and enjoying the natural surroundings."
Baker-Henderson expects the park to be completed by next summer but her committee is also hosting a family event on April 1 as part of the CBC Live Right Now healthy communities contest. If they win the $100,000, they could get the playground for free this spring.
Engaging Kids
Adam Bienenstock, founder of Bienenstock Natural Playgrounds, is the main driving force behind the natural playground movement in Canada, and is collaborating with community members on the Donnan Park design.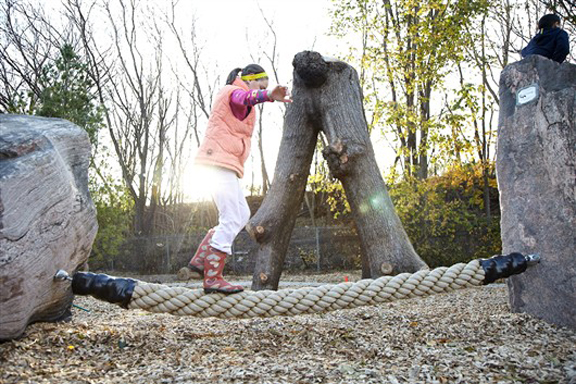 Bienenstock says the playgrounds not only engage children, but transform the way they play, bringing life out of the quieter, shy kids and calming the hyper-active or dominant kids.
"Participation rates go up, so does the collaboration between different types of kids and the different types of physical ability. These spaces aren't about physical ability anymore—they're about engagement," he says.
He is a passionate spokesman for the benefits that natural play spaces can provide children and communities, and can rattle off countless studies that link exposure to nature with everything from decreased rates of obesity, bullying, vandalism, promiscuity, to higher IQ, balance, and agility scores.
He says natural playgrounds are also the material equivalent of the 100-mile diet, because developing them relies fully on local businesses to supply building materials, flora and labour.
"The community gets to have their stuff, their story, their elements. All of the money goes to the local nurseries, the local quarries, the local soil people, your local contractors—it's all poured into local economies."
Educators and city councils are also beginning to take note of the benefits of natural parks.
In February the Vancouver Park Board unveiled its first natural playground in Oak Park, custom-built with all-natural materials, landscaping, and no manufactured equipment.
Collingwood in Ontario has become the first municipality to introduce a law that bans plastic and steel playgrounds in favour of natural play spaces.
Bienenstock says the law represents a "major shift" in societal attitudes and understandings of the importance of nature-play, and adds it's only been in the last few years that building natural playgrounds exclusively has become a viable, profitable business.
He has also attracted a long list of partners including organizations such as Parks Canada and the Canadian Wildlife Federation.
Due in part to increasing media attention, Bienenstock's business has become inundated with requests and support from the public, and his playgrounds can now be found in every province and territory in Canada except for Nunavut.
"It's amazing how many people want this for their communities," he says.