Edmonton Faces Highest Murder Rates in Canada
July 6, 2011 11:01 pm Last Updated: October 1, 2015 4:17 pm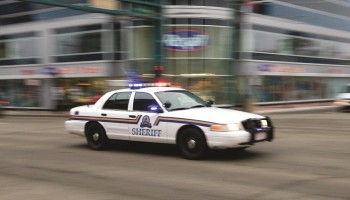 It is a title that no city wants, but Edmonton's 28th homicide has confirmed its dubious distinction as the murder capital of Canada.
The latest victim was 57-year-old William Arthur Reid Hill, found in a home north of the city's downtown core, an area where most of the other murders have occurred. An autopsy confirmed he died of "blunt-force trauma" and charges have been laid against two men.
The highest record of homicides in Edmonton was 39 in 2005, when the city earned the nickname "Deadmonton." If the death toll continues at its current rate of four per month, it could surpass that record.
By comparison, Calgary has three homicides so far this year. Toronto has 24, Montreal 17, and Vancouver 14. Edmonton's tally of 28 makes it far higher than any other Canadian city, especially considering it has the fifth largest population.
The Edmonton Police Commission reported that there is no "clear, discernible pattern" that can be linked to the increased homicides, but the majority of offenders and victims have been young, white males who knew each other.
The Edmonton Police Service has said conflicts are often due to escalating anger and confrontation, and fuelled by drugs or alcohol.
Bill Pitt, a criminology professor at Grant MacEwan University, thinks social, cultural and institutional problems have "coalesced" in the city, leading to the rampant violence, and needs more attention from municipal politicians.
"The leadership in this city on the issue of homicides is non-existent," says Pitt.
"When you start looking at domestic violence, access to alcohol, access to weapons, marginalization, huge debt issues, unemployment, etc.—we've got a problem, and saying we don't have a problem doesn't make the problem go away."
But further action may be in the works, as last week Mayor Stephen Mandel attended a closed-door meeting with Police Chief Rod Knecht to review and strategize ways to address the ongoing violence.
Transience, drug trade
The cause of the high homicide rate is hard to pinpoint, but Edmonton's growing population and young, blue-collar demographic, including many transient men, combined with a lucrative drug trade, could be a major contributor to the violence.
Poverty, the recession, and Alberta's distinction of having the second highest alcohol consumption rate per capita in Canada, also play a role.
Pitt organized a symposium in May to try and bring community leaders together to unite proactively in finding solutions to the violence. But he says the mayor and city councillors neglected to attend, despite an invitation.
Ironically, during the symposium, police officers had to leave early in order to respond to Edmonton's 21st murder.
City councillor Karen Leibovici says overall the crime rate has been going down and the high rate of homicides could simply be an anomaly.
"I think there are times in a city's history when unfortunately there are more murders than others," she said. "It's not to say that our city is not safe."
But Pitt is quick to point out that over the last 10 years Edmonton has had almost 100 more murders than Calgary, and 80 more than Winnipeg.
"I'm here to tell you it's not a safe city," he says.
Chris Hay, who teaches criminology at four different universities and previously worked for the Edmonton Police Service, says the social, economic, and political factors that have contributed to increased violence need thoughtful, long-term solutions to have a meaningful effect.
"All of the social and economic and political injustices throughout a lifetime can lead people into different types of behaviour like criminality," says Hay, who is also the executive director of the John Howard Society.
"How does someone get involved in gangs and drugs in the first place? There's a building up effect that ultimately leads to homicide."
He says rather than simply reacting to the murders, the only way to stop them is to develop early support for those at risk to prevent destructive choices later in life.
"A long-term problem requires long-term solutions. Politically, we're not set up to deal with that," he says.
"We're set up to deal with the knee-jerk things that we do so that we can appease the public quickly and move on. We're not really set up to say, 'what do we want to look like as a society in 25 years?'"
"Homicide is just like all crime—there's nothing we can really do that will work in the short term."