Ed Carpenter Wins Second Straight Indianapolis 500 Pole
May 18, 2014 7:47 pm Last Updated: May 18, 2014 7:47 pm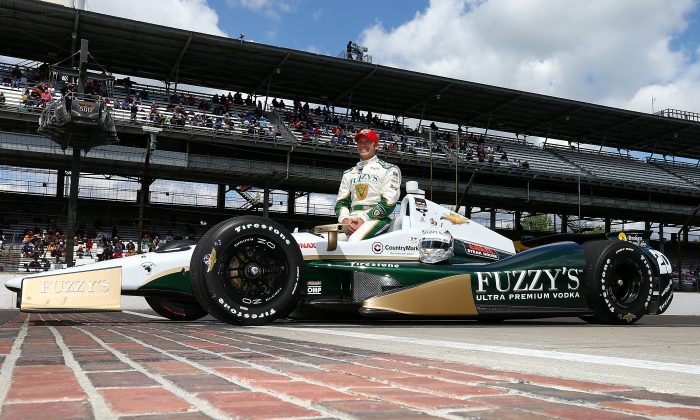 Ed Carpenter, an Indianapolis native running his own independent one-car race team, has beaten the biggest and the best-funded teams in IndyCar to capture the pole for the Indianapolis 500 for the second straight time.
Carpenter won the Verizon P1 Pole Award with a four-lap average of 231.067 mph in the #20 Fuzzy's Vodka Dallara-Chevrolet—the fastest average since 2003, and 2.305 mph better than Carpenter's 2013 pole speed of 228.762.
"It's awesome to do this two years in a row," Carpenter told IndyCar.com. "I was surprised last year and didn't expect to do it this year with such deep competition.
"It's exciting, but after going through this last year and not winning the race I've been so much more determined," said Carpenter, who led 37 laps in 2013 but finished 10th. "Now it's all about the race, and we want to close the deal."
Andretti Autosport-Honda driver James Hinchcliffe qualified second with a four-lap average of 230.839 mph. Penske-Chevrolet's Will Power will start third thanks to his average speed of 230.697.
Another Penske driver, three time Indy 500 winner Helio Castroneves, will start fourth, next to Schmidt Peterson Hamilton-Honda's Simon Pagenaud. Another Andretti-Honda driver, Marco Andretti, lies sixth.
Engine makers Honda and Chevrolet split the top nine cars five-four, quashing any thoughts that the new twin-turbo Honda would give Honda teams an advantage.
Due to the peculiarities of the new Indy 500 qualifying format, the tenth-placed car is quicker than eight of the nine ahead of him. The fastest nine cars from Saturday's qualifying session competed for the honor of starting on the pole on Sunday.
Tenth-fastest Saturday, with four laps at 231.007, was Penske's Juan Montoya; his time was only six-hundredths slower than Carpenter's.
Target-Ganassi-Honda's Scott Dixon, starting eleventh, is also quicker than cars two through nine of the starting grid. Dixon's best four-lap average on Saturday was 230.928.
Thirteen cars qualified quicker than 230 mph for the 98th Indianapolis 500, and 29 of the 33-car field qualified quicker than 2013's pole time, setting the stage for what could be the fastest Indy 500 in a decade.
Qualifying times don't translate into race speed, of course. Teams will remove all the downforce they possibly can to eke out another thousandth of a mile an hour for qualifying, but will need to put some of that downforce back to keep the car controllable in traffic for race day.
The 98th running of the Indianapolis 500, the Greatest Spectacle in Racing, will be broadcast live on ABC TV starting at 12 noon.
Tickets for the race are available through the Indianapolis Motor Speedway website.