Economic Growth Hits Trump's 3 Percent Target
August 31, 2017 3:28 pm Last Updated: September 4, 2017 2:53 pm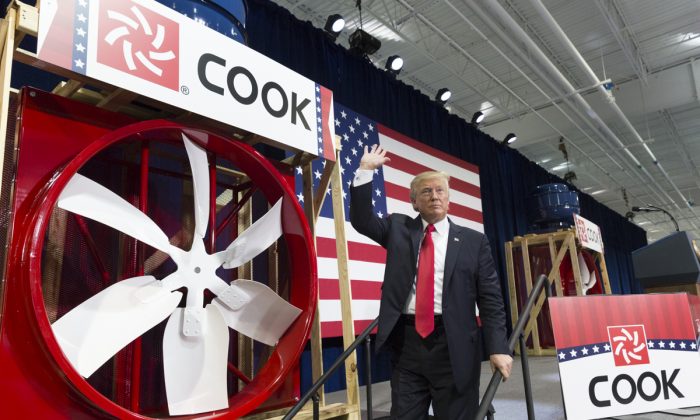 The U.S. economy grew at a higher rate than expected in the second quarter, reflecting upturns in consumer spending and business investment. Gross domestic product (GDP) rose at an annual rate of 3 percent—the fastest pace in more than two years.
According to the revised estimates released by the Department of Commerce on Aug. 30, the growth rate is better than the initial forecast of 2.6 percent announced a month earlier. And it is a substantial jump compared to the modest increase of 1.2 percent in the first quarter.
President Donald Trump has focused on a sustained 3 percent growth rate and believes it could go even higher.
"I happen to be one that thinks we can go much higher than 3 percent. There's no reason why we shouldn't," said Trump on Aug. 30, during his speech on tax reform in Springfield, Mo.
"If we achieve sustained 3 percent growth, that means 12 million new jobs and $10 trillion of new economic activity over the next decade."
Consumer spending, which accounts for almost 70 percent of U.S. economic output, increased at a 3.3 percent annual rate in the last quarter.
And nonresidential fixed investment—business spending—was higher than initially projected, with a 6.9 percent rise in the second quarter, following 7.2 percent growth in the first quarter.
Energy production, regulatory relief, and the pro-business policies of the Trump administration are driving the economic growth, according to Stephen Moore, an economist at the Heritage Foundation and former economic adviser to Trump's 2016 presidential campaign.
He criticized the economists who called Trump's growth target unrealistic.
"The America-doubters and the never-Trumpers appear to be dead wrong," he wrote in an Aug. 30 article for The Hill.
The U.S. economy is expected to grow at a rate of 3.3 percent in the third quarter, according to the Atlanta Federal Reserve's GDPNow estimate.
"These 3 percent-plus growth rates are especially impressive, given that the economy crawled forward at just 1.6 percent growth in President Obama's last year in office," wrote Moore.
Business Optimism
The solid growth in business spending was driven by investments in equipment, intellectual property, and structures.
Trump's business-friendly policies have raised business optimism since the election and hence encouraged companies to spend more.
After years of underinvestment in computers, factories, technology, and equipment, business spending has grown sharply since Trump's election, Moore wrote.
Equipment spending, for example, grew by 8.8 percent, which was a two-year high.
"Business leaders continue to be optimistic that comprehensive business tax reform will get enacted, making them more competitive globally," stated Chad Moutray, chief economist at the National Association of Manufacturers (NAM), in a report.
"We know that pro-growth tax reform will produce positive benefits for the overall economy—something that is long overdue."
According to a 2015 study commissioned by the NAM, a pro-growth tax policy would add nearly 1.5 percentage points to investment growth and almost 1 percentage point to GDP growth annually. It would also add some 500,000 jobs to the economy per year.