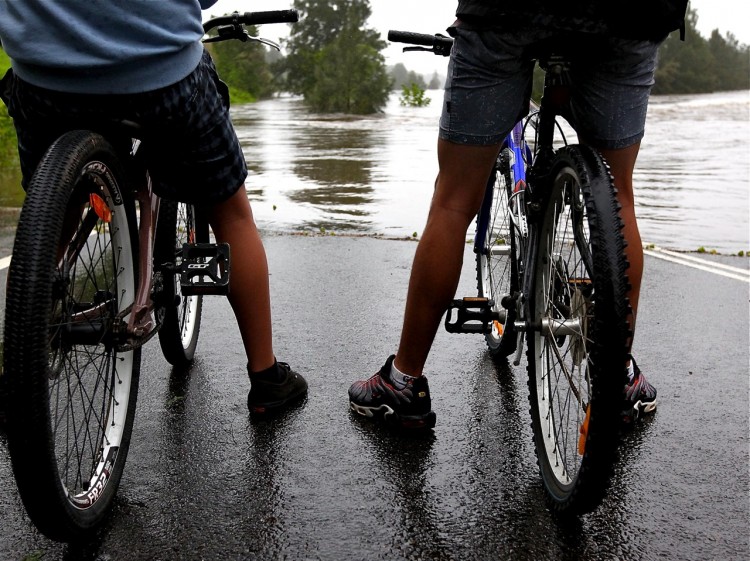 Heavy rainfall in the past week has led to thousands of emergency calls and evacuations across Australia's eastern states. New South Wales has evacuated thousands of residents, while Queensland braces for high winds and a possible cyclone. Victoria floodwaters are now receding.
Queensland–Cyclone Threat 50 Per cent Chance, Says Bureau
The Bureau of Meteorology issued a top priority severe weather warning Monday for heavy rain in the Sunshine Coast region–the Southeast Coast district and parts of the Wide Bay and Burnett district. Meteorologists warn of flash flooding, and damaging winds peaking at 90km/h about the coast, islands, and nearby inland areas.
A low pressure system was over near Double Island Point at 1:30pm AEST Monday, and is expected to move in a northerly direction overnight and during Tuesday. Vikash Prasar from the Bureau told AAP there is a 50 percent chance this could develop into a cyclone off Fraser Island.
Sunshine Coast Airport was closed and all scheduled flights were cancelled on Monday.
Three Sunshine Coast evacuation centres have been set up. The Noosa junction, Nambour Civic and Lake Kawana Community Centres.
Victoria–Water Levels Receding Slowly, Towns Remain Affected
Towns in Northeast Victoria remain affected by floods, and the State Emergency Service (SES) says in some places the flooding has exceeded both 1974 and 1993 flood events.
More than 300,000 sandbags have been filled as a last line of defence in Northeast Victoria where several families may be isolated for days.
Floodwaters may take a little over a week to drain away after the peak has passed. There will be no further rain forecast for the next four days.
New South Wales–Thousands Evacuated
More than 5,000 residents have been ordered to evacuate flood-stricken areas across NSW, and nine more government areas have been declared disaster zones in the past week.
The State Government has so far this year declared more than 35 local government areas as disaster zones, and the State Emergency Service (SES) has performed at least 105 flood rescues and received more than 3000 calls for assistance.
About 5,000 residents across NSW were ordered to leave more than 2,000 properties, and 2,000 mostly rural properties remain isolated in the waters.
The Murrumbidgee River is expected to peak at 10.6 metres on Tuesday morning in Wagga Wagga, which is a marked increase from the Bureau's 10 metres forecast Sunday night. More than 1,000 residents have evacuated from Wagga Wagga's north and east, and neighbouring Gumly Gumly, as well as surrounding rural properties.
"Our last flood was in December 2010–we got through that okay, but … this will be a lot worse," said Wagga Wagga mayor Kerry Pascoe, according to AAP.
Canberra–Wettest Week in 60 Years
Canberra has recorded its wettest week in more than 60 years, reaching nearly 200mm at Canberra Airport during seven days up until Sunday. This is half of Canberra's average long-term annual rainfall recorded in just over two months.
The ACT State Emergency Service received 941 calls for help over the past week.
Lake Burley Griffin remains closed to the public as contaminated water flows in from the flooded Molonglo River.
This is Australia's second summer in a row seeing wet and cool conditions accompanied by heavy rains. The years 2011 and 2012 have been the wettest two-year period in Australia's history, a record previously held in 1973-1974. Queensland is still recovering from devastating floods that affected much of the state early last year.