Earthquake Victims Blame Local Government's Incompetence
May 19, 2008 12:00 am Last Updated: May 19, 2008 12:00 am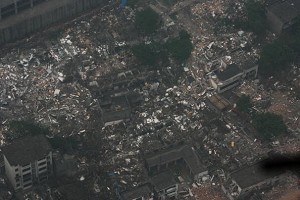 Mianzhu City, located 35 km south east of the earthquake epicenter, suffered severe casualties and property damage. Many locals have expressed disappointment with the Chinese authorities' relief effort.
Li Yi (pseudonum), a front-line relief worker, told The Epoch Times that the Mianzhu government is hiding the disaster. Many supplies, volunteers, and troops have arrived, and yet, the local government could not coordinate properly.
"The locals have worked very hard with the outside aids to restore the order. Hope is diminishing for those who remained buried. The Mianzhu City's command is chaotic. I wish the upper authorities could send someone more capable and remove the local officials," he said.
Mr. Li also told Epoch Times that people have not seen any officials visiting the disaster area, except on TV. The authorities conceal the severity of the disaster that Mianzhu suffers just as much as the epicenter in Wenchuan county. The two townships are almost flattened, and the communication lines of three other townships remain completely disconnected. Yet, the Mianzhu City Party Secretary Jiang Guohua proclaims that Mianzhu has completed the first large-scale search and rescue within a day after the arrival of the rescue troops.
According to a student, the most ridiculous thing is that when the rescue workers were ready to dig, a Mianzhu official requested, "Wait, let me do the first two shovelings." The rescue was put on hold until he finished his talk.
A local said, "Isn't this hiding the death toll?" The bodies are piled up in burial grounds. Those who are unclaimed, found at schools, and rural areas are simply piled up in pits.
Li Yi says, "The death toll is far greater than what's published. The data is according to those bodies found. Many towns have been completely flatted down. You can't dig at all. The death toll is definitely more than tens of thousands. The rural areas suffer even more severe casualty. Hanwang Town has lost nearly two thirds of its population."
The local government proclaims the power has been restored, but Li said, "Part of the communication is restored. Very few regions regained limited supply of water and electricity. Gas is still off. The roads and communication to three towns in the mountain area are cut off completely."
A large supermarket in the city was completely ignored until the third day after the earthquake. Li Yi said, "I suspect all are dead now. The rescue in that area should be fairly easy, many could have survived if the rescue had taken place right on that day."
According to Li, the outside relief forces arrived at the City office, and the officials waited another couple of hours to call for a rescue meeting.
Li Yi complained angrily, "The Mianzhu City government is too disappointing. Due to lack of coordination, the special forces from Zhejiang province spent a day not knowing what to do. We are very sad. The official's efficiency is worse than the volunteers."