Earthquake Today in California? Orange County Residents Report Feeling Quake Wednesday; [UPDATE: Sonic Boom]
April 9, 2014 4:01 pm Last Updated: July 18, 2015 5:15 pm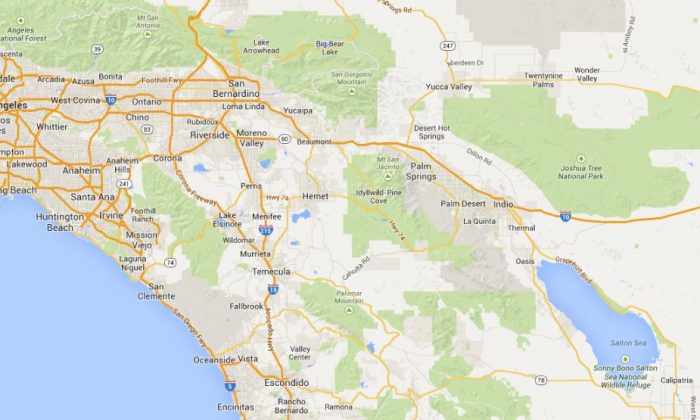 An "earthquake" was reported by social media users in Orange County, in Southern California, on Wednesday afternoon, but it was not confirmed by the U.S. earthquake-monitoring service.  
UPDATE: The shaking was caused by a sonic boom.
Sonic boom causes mystery jolt in Orange County 
NEWPORT BEACH, Calif. (AP) — Some folks in Orange County thought they might be having anotherearthquake as a mysterious boom rattled buildings and nerves nerves — but the culprit turns out to be from a higher source.
The jolt and a loud boom were reported at around 1 p.m. Wednesday.
No damage or injuries were reported.
Some frazzled folks wondered if it was yet another aftershock to a magnitude-5.1 temblor that struck the county on March 28.
However, the California Institute of Technology said no quake was recorded in the area at that time.
The source turned out to be a sonic boom.
The Los Angeles Times (http://lat.ms/PTkBFq ) says the Navy confirmed that an aircraft broke the sound barrier during an aircraft carrier exercise 50 miles off the coast.
—
The "quake" has not been registered on the U.S. Geological Survey, the official earthquake-monitoring agency. The agency posts earthquake updates on its website a few minutes after any quake hits, but there was no update as of 1:09 p.m. local time. 
The USGS did not put up an update about a quake on its website in Southern California on Wednesday.
However, on Twitter, a large number of users said they felt a quake.
Residents in Dana Point, Malibu, Huntington Beach, Newport Beach, and in other parts of Orange California said they felt shaking.
"Earthquake in Newport Beach, CA? I felt a jerk in our RV about 5 min. ago," one person wrote on Twitter.
Added another: "Anyone else feel that earthquake!? Or just Malibu?"
Another wrote: "SoCal earthquake! Decent jolt here in NPB."
However, other users said the shaking was most likely caused by a sonic boom, and they speculated that an aircraft caused it.