A 5.4 magnitude earthquake struck southern Mexico on the night of Oct. 1, according to the U.S. Geological Survey (USGS).
The quake hit about 15 miles southwest Cintalapa de Figueroa, the agency said. The quake had a depth of 75 miles.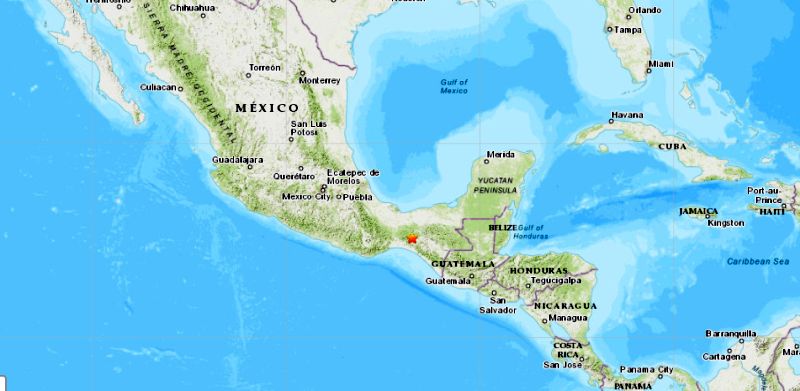 According to CNN Espanol, the National Seismological Service of Mexico reported that the earthquake was 5.7 on the Richter scale.
Map of the testimonies received so far following the #earthquake M5.4 in Chiapas, Mexico 53 min ago pic.twitter.com/4W0NJcf8Jf

— EMSC (@LastQuake) October 1, 2018
The State Civil Protection said it dispatched officials to assess any damage done to structures, but no damage or injuries have been reported, reported Vallarta Daily.
Other details about the earthquake are not clear.
Indonesia Quake Update
Reports on Oct. 1 said that more than 800 people died in a major 7.5 earthquake and tsunami that hit Indonesia's Sulawesi island last week. Video footage (seen in the video on top of the article) shows a tsunami hitting the city of Palu.
Sutopo Purwo Nugroho, the country's national disaster agency spokesman, told the BBC that the tsunami was about 20-feet-high.
Nearly 50,000 people were left homeless by the quake, CBS News reported, and officials added that tens of thousands of people may have died.
"The death toll is believed to be still increasing, since many bodies were still under the wreckage, while many have not been reached," Nugroho told The Associated Press on Sept. 30.
"What we now desperately need is heavy machinery to clear the rubble. I have my staff on the ground, but it's impossible just to rely on their strength alone to clear this," Muhammad Syaugi, who is the chief of the national search-and-rescue agency, was quoted by the BBC as saying on Sept. 30.
The bodies of victims, meanwhile, were buried in mass graves near Palu, a city of 300,000 people. Volunteers dug a 300-foot-long grave to bury the dead, and they had instructions that about 1,300 people would be laid to rest, according to Qatar-backed Al Jazeera.