3.2 Magnitude Quarry Blast Hits Near Chicago in Indian Head Park, Illinois
November 4, 2013 2:03 pm Last Updated: July 18, 2015 5:18 pm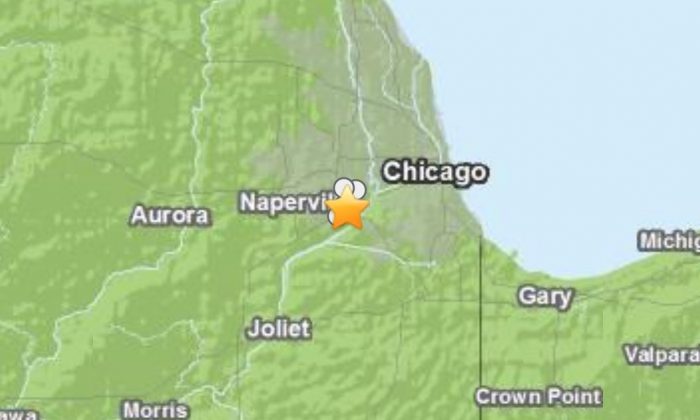 An earthquake hit today in Indian Head Park in Illinois, near Chicago, reported the U.S. Geological Survey–but the survey later said that it was a quarry blast, probably.
The tremor was first reported by the survey as 3.7 magnitude but later downgraded to 3.2.
The Hanson Material Service quarry told CBS that it was performing blasting operations in McCook, but spokesman Jeff Seig said that there wasn't a connection.
About seven seconds after a blast around 12:35 p.m. a "separate seismic event was recorded," Seig said.
Vulcan Materials in McCook didn't blast on Monday.
Paul Caruso, a geophysicist with the survey, told the Chicago Tribune: "We're pretty sure it's from a blast," and it's "not an earthquake."
"This is a very large event for a quarry blast or a mining blast," Caruso said, adding that anything above 2.5 magnitude can be felt. 
On its official page, the survey switched the wording from earthquake to quarry blast.
People in the area said that they felt the blast, including a local law firm.
Mary De Groot of LaGrange was walking home from her children's school when she felt the earth move.
"This was more like an explosion," she said. "I saw my house come off the ground and I was lifted off the ground."
"Freaky to me! I've never in my life felt the ground shake. or the building shake or whatever," wrote CFBLaw on Twitter.
A Westchester resident told the Chicago Tribune "the entire house shook for one or two seconds, knocking some things off shelves."
The National Weather Service said that the blast "has been felt by numerous persons in Illinois."
The tremor hit at a depth of 0.8 miles, which is extremely shallow.
It hit 1 mile northeast of Burr Ridge, 2 miles south/southwest of La Grange, and 2 miles south of Western Springs.
Story developing; check back for updates
Follow ETBreakingNews and Zachary Stieber on Twitter for breaking news from around the world.