Several strong earthquakes hit off the coast of Vancouver Island, British Columbia, on Oct. 22.
The strongest quake was registered as a 6.8-magnitude on the Richter scale, according to the U.S. Geological Survey (USGS). It had a depth of 6 miles.

A 6.6 magnitude earthquake and a 6.5 magnitude earthquake also hit in the same area, about 140 miles southwest of Port Hardy, Canada. They also had a depth of 6 miles.
Several 4.0 or greater earthquakes also struck around the same area.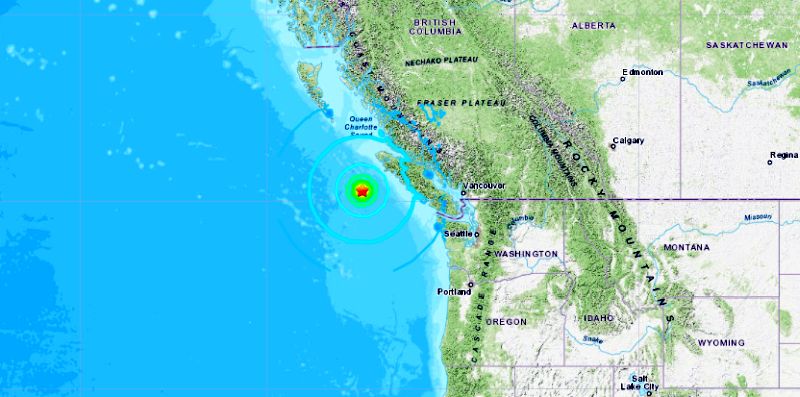 Geophysicist Amy Vaughan told The Associated Press that there may have been some other aftershocks. Vaughan says the quakes were felt onshore. No injuries were reported, she said.
The National Tsunami Warning Center wrote that a tsunami in the area is "not expected," AP reported.
Ring of Fire
British Columbia, like the rest of western North America, is located on the Pacific "Ring of Fire" that encircles the Pacific Ocean, the world's most seismically active area. About 90 percent of the world's earthquakes are registered in the region.
British Columbia, namely Vancouver Island, has been struck by powerful earthquakes in the past. In 1946, a 7.5 magnitude earthquake struck the island, and it was felt as far away as Portland, Oregon. Two people died in the quake, which also caused severe damage in the area.
Earlier this year, a report said that a 9.0 earthquake could hit off the West Coast of Canada, which would kill thousands of people and cause massive tsunami waves around the West Coast.
"It's difficult to predict when it will happen again. We do know it's occurred about 20 times in the past 10,000 years," Dr. John Clague, an earth sciences professor at Simon Fraser University, said to GlobalNews.
The report made note of a 9.0 magnitude earthquake that hit near Vancouver Island in the year 1700. The quake caused a tsunami that hit the east coast of Japan. Some Native American tribes also have oral traditions that speak about a giant earthquake as well as a tsunami-like flooding event along the West Coast.
According to a forecast model of the 9.0 earthquake produced by the Pacific Tsunami Warning Center, the tsunami generated from such a quake would impact all of the west coasts of Canada, the United States, Mexico, and would bring impacts to East Asia.
"This geologically active region, the Cascadia Subduction Zone, not only hosts erupting volcanoes but also produces megathrust earthquakes capable of generating devastating, ocean-crossing tsunamis. By comparing the tree rings of dead trees with those still living they could tell when the last of these great earthquakes struck the region. The trees all died in the winter of 1699-1700 when the coasts of northern California, Oregon, and Washington suddenly dropped 1-2 m (3-6 ft.), flooding them with seawater," the Pacific Warning Center wrote.