Earthquake Predictions In China Are Also Political
May 28, 2008 12:00 am Last Updated: May 28, 2008 12:00 am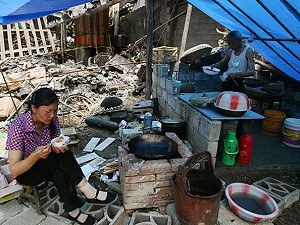 There has been a heated debate over whether the recent devastating earthquake in China was predicted before it took place. Critics are accusing the political regime of being very irresponsible in ignoring earthquake warnings and thereby causing the loss of tens of thousands of lives.
On July 28, 2006, the Director of the China Earthquake Administration, Chen Jianmin, was speaking on a program of the regime's mouth piece, China's Central TV station. He stated with certainty that earthquakes were predictable. But immediately after the recent devastation in Sichuan, Chinese officials claimed that the prediction of earthquakes was a tough task worldwide. Another commentator said that earthquake prediction in China is a political issue.
Mixed Messages
According to Chen, China has been predicting earthquakes since the Xingtai earthquake back in 1966, which killed 8,064 people. "Through continuous scientific research and information gained from many actual cases, we can make a prediction on a certain type of earthquake." However, after the earthquake in Sichuan took place, Zhang Ziaodong from the China Earthquake Networks Center held a press conference at China's State Department on May 13. At the conference Zhang denied the quake in Sichuan was predictable and said that predicting earthquakes was a "difficult task worldwide."
Later on, the media in China went quiet about this sensitive issue. A frontline reporter disclosed that Beijing had sent out rules on reporting the earthquake, "To propagate positive, constructive news and forbidding criticism and introspective articles." Recently, according to our source, Beijing has officially banned discussing the subject of earthquake prediction in public.
However, more and more information has indicated accurate prediction on the quake had been presented to Beijing on many occasions. The communist military had also taken preventative measures based on the predictions.
Predictions Have Saved Lives
Chen also said during an interview with CCTV two years ago, that following an accurate prediction, a quake that took place in China on February 4, 1975, only took 1,300 lives instead of 100,000. Chen also gave examples from overseas, how predicting earthquakes had cut down the number of deaths – only three died in California in 2003 and 40 in Japan in 2004, two countries where earthquake prediction was released before the event.
By May 24, 2008, the Sichuan quake was estimated to have killed 60,560, injured 352,290, and 26,221 people were still missing, according to information released from China's State Department. A Chinese social economist, He Qinglian, commented about the difference in speeches coming out of Beijing about quake prediction before and after Sichuan, "In China, earthquake prediction is pure science and earthquake forecasting announcement is pure politics. This is how it works in China, whether in the past or present."