Earthquake Parents Petition for Justice
May 25, 2008 12:00 am Last Updated: May 25, 2008 12:00 am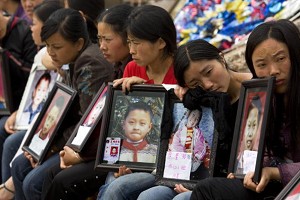 Thousands of children died in the recent earthquake in China because of the poor construction quality of their school buildings. Currently their parents are petitioning to bring to justice the corrupted officials who are responsible, and to recognize the day of the earthquake as an annual memorial date as well.
On the road to Fuxing Elementary School in Wufu Town, Mianzhu City, Sichuan Province, the parents placed many wreaths alongside the path, and also put up banners such as "Our children did not die in the earthquake but died from a poorly constructed building." At least 127 students died from the collapse of a school building in the town.
On Monday May 19, the Chinese regime held a national mourning ceremony for the earthquake victims; it has also pledged not to spare those who were responsible for the collapse of school buildings. However in Juyuan Town, dozens of parents do not think that is enough. The parents have all signed an appeal letter requesting the Chinese authorities not to classify that their children died in a natural disaster.