The U.S. Geological Survey (USGS) said that a 3.5 magnitude earthquake struck near Calimesa in Yucaipa, California, on Oct. 1.
The temblor hit at 10:56 a.m. local and hit 2.5 miles southeast of Calimesa and Yucaipa, the USGS said.
The depth was 10 miles, the agency said.
Fontana, Banning, Moreno Valley, and Rialto residents said they felt the quake, ABC7 reported.
There were no reports of damage or injuries.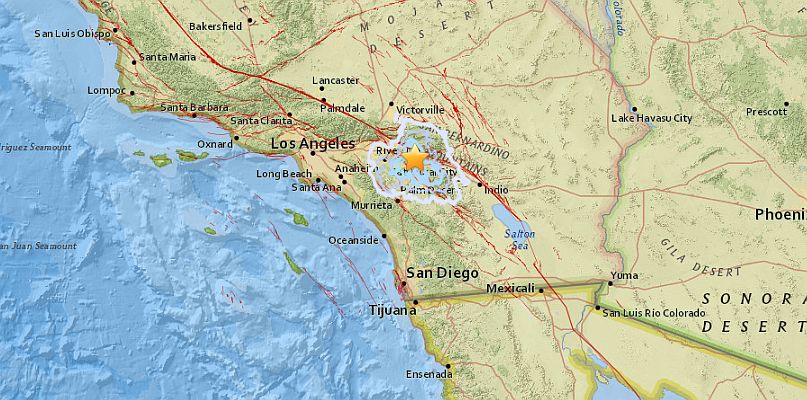 A 3.6 magnitude earthquake hit 1.9 miles east-northeast of Calimsea in Riverside County on Sept. 30.
"My colleagues thought I was crazy but I know I felt an earthquake! It was a 3.5 magnitude centered in Yucaipa, which is close by lol," tweeted one person.
Indonesia Quake Update
The BBC reported that 844 people died in a 7.5 magnitude quake and tsunami last week. The tsunami (seen in the top video) was reportedly 20 feet high, according to a previous report by The Epoch Times.
"Communication is limited, heavy machinery is limited … it's not enough for the numbers of buildings that collapsed," said Sutopo Purwo Nugroho, a local official, according to the BBC.
Local army commander Tiopan Aritonang said that 545 bodies will be buried in a mass grave near Palu, according to The Associated Press. Willem Rampangilei, chief of Indonesia's National Disaster Mitigation Agency, said the trench is 33 feet by 330 feet.
"This must be done as soon as possible for health and religious reasons," Rampangilei said.
"I know there are many problems that need to be solved in a short time, including communications," President Joko Widodo said after visiting Palu.