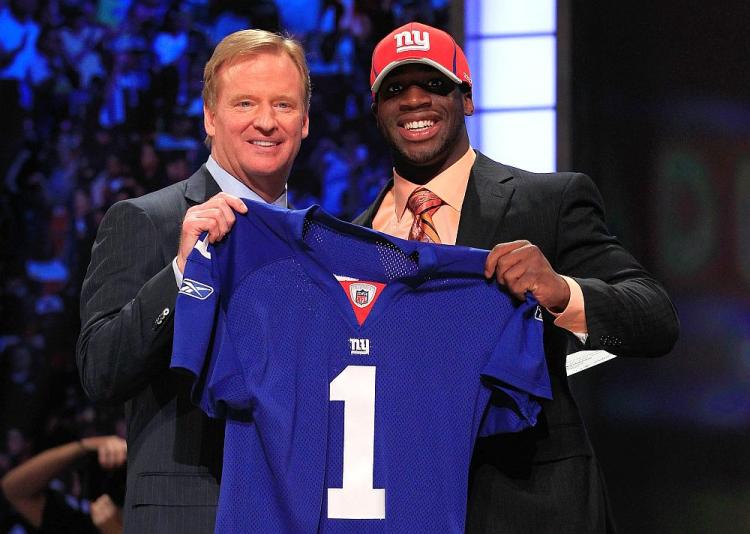 In a game that will be spoken about for years to come, the Philadelphia Eagles stunned the New York Giants 38–31 at the New Meadowlands Stadium on Sunday, overcoming a 21-point deficit in the fourth quarter.
Up 31–10 with less than eight minutes left in the fourth quarter, the Giants experienced a total team collapse. The defense was unable to stop Michael Vick and the Eagles while the offense sputtered into multiple three-and-outs.
On the Giants' official website, head coach Tom Coughlin spoke after the game saying, "Obviously very, very difficult to discuss or talk about. There aren't a lot of words to—even for our team, for them to take a hold of. The explanation for this I think: 24–3, 31–10, the game is never over until it's over."
A frustrated Eli Manning (23-of-39 passes for 239 yards, 4 touchdowns, and 1 interception) talked about his team's late-game unraveling: "You are up 21 in the fourth quarter, feeling pretty good about your situation, and then all of a sudden just everything went downhill."
"Everything that could probably go wrong went wrong, and you can't have that. That is why you play 60 minutes of football. We played a good 52 minutes and the eight other minutes we gave it to them."
Came Out Swinging
From a city that hails Rocky Balboa among its heroes, Philly certainly came out swinging in crunch time and landed a series of body blows that left the home crowd stunned and the Giants players in utter disbelief.
At 7:28 in the fourth quarter, Vick connected with tight end Brent Celek for a 65-yard touchdown pass down the middle. Following the score, Eagles head coach Andy Reid made the call of the game, going for an on-sides kick and having his team recover it, as the Giants were completely unprepared.
On the next drive, Vick scrambled for an unbelievable 35 yards downfield, setting up a 4-yard touchdown run of his own to the left side of the end zone at 5:28.
Minutes later, Philly's number 7 put together another incredible scoring drive as he rushed for 33 and 22 yards respectively before capping it off with a 13-yard touchdown pass to wide receiver Jeremy Maclin at 1:16.
After forcing the G-Men into their final three-and-out, the play of the month was about to unfold.
With the game tied 31–31 and seconds winding off the clock, Giants punter Matt Dodge made the blunder of his young career, kicking a line-drive punt to one of the most feared returners in the league, DeSean Jackson, who returned it 65 yards and in for the game-winning score.
Jackson made sure to throw in some pre-scoring celebration, trotting the length of the goal line with Giants players in pursuit, and then casually walking into the end zone.
Philly players rejoiced and surrounded Jackson.
Jackson was thankful for the opportunity, saying on www.giants.com, "In my mind I thought there was no way we could come back, but it just shows the character, the heart, and the fight that our team put together to make a huge run."
Eagles head coach Andy Reid gave kudos to his team, "You know what, I'm proud of them. I'm proud of the coaches. Nobody was down. They were frustrated, but they weren't down. They were supporting each other."
Game To Remember

In a contest where both quarterbacks had excellent games, Michael Vick had one of his most memorable games, completing 21-of-35 passes for 242 yards and 3 touchdowns. He also rushed for 130 yards on 10 carries—most of those coming in the fourth quarter.
Vick commented, "I just knew that we needed touchdowns to get back in the game. Every down counts, every possession counts, and you have to go out there and block everything else out, forget about the score, keep it in the back of your mind, and make plays at the same time."