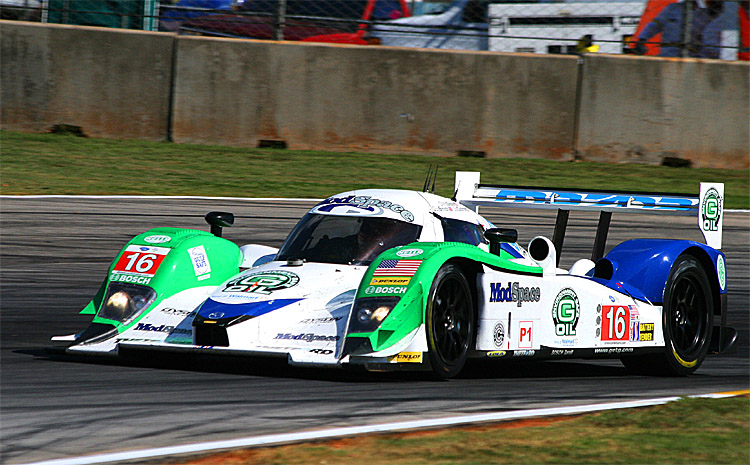 Dyson Racing is returning to Le Mans for the 80th anniversary 24 Hours in June. The team will enter two brand new Lola 12/60 coupes powered by AER-Mazda 2-liter turbocharged inline four motors in the LMP1 class, to compete against Audi and Toyota.
Dyson Racing earned five automatic invitations to Le Mans in the course of winning the American Le Mans Series P1 championship in 2011. Chris Dyson and Guy Smith, who won that title, will be driving at the 24-hour race.
"Both my dad and I have raced at Le Mans and have always said we would go back with our team when we were able to run competitively with a proper program," said Chris Dyson, who is also Vice President and Sporting Director of Dyson Racing, in a press release.
"This is a natural extension of the momentum from last year's winning season. Even with our long-term history in endurance racing, entering Le Mans propels our team to its next native level. It is the greatest endurance race in the world. All of our partners have been hugely supportive of this step and we look forward to having a strong run in the race."
The team will be assisted by UK-based Status GP, which also has an alternate entry in the LMP2 category.
Status GP won the A1GP World Cup of Motorsport in 2009 and has been a multiple race-winning and championship contending team in GP3 in 2010 and 2011. The team's personnel have vast experience of competing at Le Mans and have helped customers secure top-10 finishes in the GT1 and LMP2 classes in 2006 and 2011.
"It is a privilege to work with Dyson Racing as they embark on a two-car campaign at the 24 Hours of Le Mans," said Status GP founder Mark Gallagher. "We will assist them technically and commercially, and our goal is to help ensure that this legendary team enjoys a highly successful event with minimum disruption to the defense of their American Le Mans Series championship titles."
"We are very excited to join forces with Status Grand Prix, a mutual friend of Lola and a group that has proven to be of the top drawer in recent years," said Dyson. "Their key staff has decades of Le Mans experience and success, and partnering with them was an easy decision."
Chris Dyson finished seventh in the 2004 24 Hours; Guy Smith co-drove the winning entry in 2003 and finished second in 2004. After its successes in the 2011 ALMS season, the team decided it was ready to return to the world's biggest sports car race.