As Chinese Communist Party leader Xi Jinping arrived in Seattle, beginning a weeklong stay in the United States, what greeted him on Sept. 22 was more than just legions of blood-red flags and scripted praise.
Practitioners of Falun Gong, a traditional spiritual discipline persecuted by the Chinese regime since 1999, are calling upon General Secretary Xi to bring Jiang Zemin, the retired Party boss who personally launched the deadly repression against the practice, to justice.
The practitioners held posters condemning Jiang and those known to play key roles in the persecution as Xi's motorcade rolled by. Their presence in Seattle is just one point in the context of greater events unfolding in China in recent months and years.
Since this May, Chinese citizens have submitted over 100,000 legal complaints to China's highest judicial bodies, the Supreme People's Court and the Supreme People's Procuratorate, calling for Jiang Zemin to be prosecuted for his crimes against humanity.
The Falun Gong website Minghui has documented the growing volume of these submissions.
Since this May, Chinese citizens have submitted over 100,000 legal complaints calling for Jiang Zemin to be prosecuted.
Falun Gong was practiced by an estimated 100 million people in 1999, before the persecution began. Using his own authority as head of the Communist Party, Jiang directed state agencies and security forces to carry out the persecution, which is believed to have led to the deaths of tens of thousands of Falun Gong practitioners, according to human rights organizations and investigative journalists.

Despite having stepped down from his official posts as Party head in 2002 and as head of the military 2004, Jiang Zemin continued to exercise influence in Party politics through his lieutenants, whom he had placed in powerful positions to maintain his control.
Jiang's influence began to fade when his political faction failed to rein in the new Party head Xi Jinping, who took office in late 2012. What resulted was a massive purge of the Chinese regime and state enterprises, ostensibly an anti-corruption campaign, that has felled tens of thousands of officials, including leading Jiang allies such as security czar Zhou Yongkang and deputy head of the Chinese military Xu Caihou.
Related Coverage
While the persecution of Falun Gong has lightened somewhat in recent years, most likely due to the political straits the primary perpetrators now find themselves in, Communist Party policy still sees the nonviolent practice as a "heterodox religion."
In Seattle, when Xi's vehicle passed, a large number of Chinese, mostly exchange students, crowded the sidewalks with communist flags and banners. Individuals appearing to be in charge of organizing the groups directed them to block the Falun Gong demonstrators, according to a report by Minghui and eyewitnesses who spoke to Epoch Times.
According to Chen Zhiping, a Falun Gong spokesman in the Pacific Northwest, practitioners from Canada and the western United States gathered in Seattle for the express purpose of urging Xi to prosecute Jiang and end the regime's unlawful and brutal persecution of Falun Gong.
"We are a cultivation group, we are not interested in politics. We want a free practice environment, but the Communist Party has continued its persecution of Falun Gong. We want to tell Xi Jinping to stop the persecution immediately," Chen told Minghui. In ancient China "cultivation practices" were disciplines in which individuals worked to improve themselves physically, morally, and spiritually.
The recent surge of legal complaints against Jiang emerged after new Chinese legal regulations, effective May 1, required courts to accept administrative cases more quickly.
Chinese authorities have reacted inconsistently to those submitting their complaints against Jiang. While the majority of plaintiffs filed their paperwork to government bodies without interference, others have been detained or harassed by the police.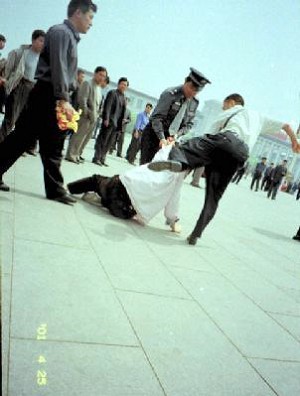 Huang Kui, an engineer who practices Falun Gong, was imprisoned in a labor camp where he had to produce export goods such as Christmas tree lights, toys, and clothing. He is also taking part in the effort to sue Jiang and hopes Xi will take action.
"Xi has more power than anyone in China to change the country's trajectory and hold people like Jiang to account," Huang said, in a press release published by the Falun Dafa Information Center "Let's encourage him to do so. May my lawsuit and the thousands more like it help change history." Huang also recently published an op-ed in The Hill, a political publication in Washington, D.C.
Xi Jinping will leave for Washington, D.C., on Sept. 24, for meetings with President Barack Obama and other American officials. On Sept. 26 he will continue on to New York for events at the United Nations headquarters, where Falun Gong banners and demonstrations will again make known the Chinese call for justice.
Jenny Li contributed to this report.