The ever-growing Duggar brood is getting older, with Jim Bob and Michelle's fourth-youngest child turning nine years old this week while one of their granddaughter's turned five recently.
Johannah Faith Duggar turned 9 on October 11. She was born in 2005.
Mackynzie Rebee Duggar turned 5 on October 8. She was born in 2009. She's the oldest child of Josh and Anna Duggar. Their other children are Michael James, 3, and Marcus Anthony, 1.
Josh, 26, is Jim Bob and Michelle's oldest child and married Anna back on September 26, 2008.
With such a large family, more birthdays are always approaching. Joy-Anna Duggar, the fifth-oldest daughter, will be turning 17 on October 28. Jessa Lauren, the third-oldest daughter, will be turning 22 on November 4. Justin Samuel, the second-youngest son, will be turning 12 on November 15.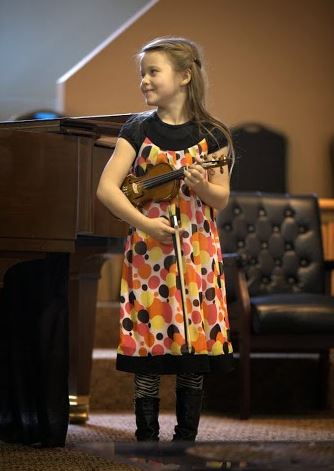 There's a lot of birthdays in December and January.
The two youngest children will both be getting older, with Jordyn-Grace Makiya turning 6 and Josie Brooklyn turning 4 on December 18 and December 10, respectively. Twins Jedidiah Robert and Jeremiah Robert will be turning 16 on December 30.
Twins Jana Marie and John-David will turn 25 on January 12, and Josh Garrett will turn 20 on January 20.
Michelle recently took to her blog to discuss the growth of Josie Duggar.
"Josie is doing so well; she'll be five years old in December. It's coming up so quickly! She's working on phonics and starting violin lessons — and she is just so excited about being such a big girl. She's even riding a bike without training wheels," she said.
MORE: Kids by the Dozen – Duggar Friends Chris & Wendy Jeub Accused of Abuse by Daughter
"The other day, we had one of her doctors and his wife over to the house for dinner. He was the one that actually delivered her when we were at the University of Arkansas for Medical Sciences (UAMS). The night before they came over, I told Josie, 'Tomorrow evening we are going to have the doctor over who delivered you. God used him to save your life and my life. The skills that he learned in school, and all of the training that he got, allowed him to sustain your life and mine.' I wanted her to know what a blessing it is and how grateful we are for all the doctors and nurses that took care of us.

"When they arrived at the door the next day, you would have thought that it was the President of the United States coming in. As they were pulling into the driveway, Josie was standing at the window, jumping up and down looking for them. The minute her doctor stepped foot through the door, she hugged his leg and didn't let go of him the whole time he was here. He picked her up and she hugged his neck, kissed him on the cheek and just would not let go.
"He was grinning because he said this was really the joy of his work. This was the result of all those hours of work and he was just delighted to see how well she's doing.
"So, yes, Josie is doing miraculously well. You look at her and you'd never know there was anything different at the beginning of her life. She is excelling. She sings all the time; she has a song in her heart and if she doesn't know the words, she just makes them up. It is so sweet to see this little one with so much joy and energy and love for life. I'm just so grateful to God and for all the prayers of our friends out there.
"I still meet people to this day that say, 'I prayed for that little girl.' And Josie will go up and give them a heartfelt hug. We have such gratitude in our hearts that she's here and we don't take for granted a day that we get with her. It makes you look at all of your other relationships so differently and appreciate the time that you've got with the kids. They grow up so fast. We realize that even more at this stage in life."