Duane "Dog The Bounty Hunter" Chapman honored his wife's final wish for a traditional Hawaiian memorial, where he delivered a touching eulogy.
The celebration of Beth Chapman's life took place on Fort DeRussy Beach in Waikiki, Hawaii, on June 29, and consisted of a traditional Hawaiian 'Oli chant, followed by a prayer and a paddle out to the ocean, TMZ reported. The 51-year-old passed away on June 26 after losing her battle with throat cancer.
Beth Chapman's Memorial in Hawaii — https://t.co/kXfpRmzfnK

— TMZ (@TMZ) June 28, 2019
In the eulogy, Duane Chapman talked about how after his mother's passing she was laid to rest in Hilo, Hawaii, and how a local tribesman declared him an official Hawaiian since his mother "was part of the land, the sea, the sky, and the rain."
"And now Beth is going to be placed here too. She got there before I did, my island," Chapman jokingly added.
He said that Beth unusually called him by his stage name, "Dog," when expressing her wish for a Hawaiian-style memorial.
"She said, 'Please, Hawaiian style, Duane Dog Chapman.' I tried to have her call me Dog for so many years. She said, 'Please do this right,' so I appreciate everyone being here. I have to go out on the boat so I can see everybody right, its Hawaiian tradition and style. Thank you all, God bless, Aloha."
After the eulogy, a Hawaiian outrigger boat headed out to sea, joined by surfers for a final "paddle out."
Dozens of family, friends, and fans attended the memorial, which was open to the public. Earlier, Bonnie Chapman, the couple's daughter, shared an invitation to the event on social media.
"In her own words, she said, "I love Hawaii" the most, so we are sending her off in true Hawaiian style, aloha," the invitation reads.
#alohaoemrsdog pic.twitter.com/DejZcUN3dE

— Bonnie Chapman (@Bonniejoc) June 28, 2019
Family spokeswoman Mona Wood-Sword was cited by WJLA as saying those attending the service were asked to bring "ocean-friendly loose flowers." but no lei because the string isn't good for marine life.
Some recorded the memorial on their phones before sharing on social media.
— Lyssa Chapman (@BabyLyssaC) June 27, 2019
If you'd like to pay respects, feel free to. pic.twitter.com/fuOsOBm27Q

— Bonnie Chapman (@Bonniejoc) June 26, 2019
At Beth Chapman's Service pic.twitter.com/hHRKWVey8i

— NinjAloha50 (@ninjaloha50) June 30, 2019
Another service will be held for Beth Chapman in Colorado, where the couple had another home.
Beth and Duane Chapman starred in the A&E reality show "Dog the Bounty Hunter" until its cancellation in 2012. They later starred in Country Music Television's "Dog & Beth: On the Hunt."
Dog the Bounty Hunter on Wife's Death: 'She's Sleeping'
Earlier in the week, Duane Chapman issued a statement on his wife's passing.
"I loved her so much," he said of Beth, adding he strongly feels "Beth isn't dead, she's sleeping," Yahoo News reported.
He also warned people from donating to any unauthorized funds for Chapman, saying, "we don't need any money at all," adding that fans should send flowers instead of cash.
Duane also posted a video of his wife on June 28. He wrote: "People have asked me. What is something fans do not know about Beth… Here you go."
People have asked me.. What is something fans do not know about Beth… Here you go ❤ @wgnamerica Marty Singer, Amy Weiss, Andrew Brettler @LelandBChapman @icEciLy @BabyLyssaC @dakotadog808 @Fast156 @theRealJaneBond pic.twitter.com/Om808KKV9k

— Duane Dog Chapman (@DogBountyHunter) June 27, 2019
He also said at a press conference this week: "Her way was to live. She wanted to live so bad and she fought so long, and the reason she fought, she liked life but she wanted to show people how to beat it and what to do when it got her," according to Hawaii News Now.
Beth was diagnosed with cancer in 2017 before she was later declared cancer-free. It returned in 2018 before she underwent surgery.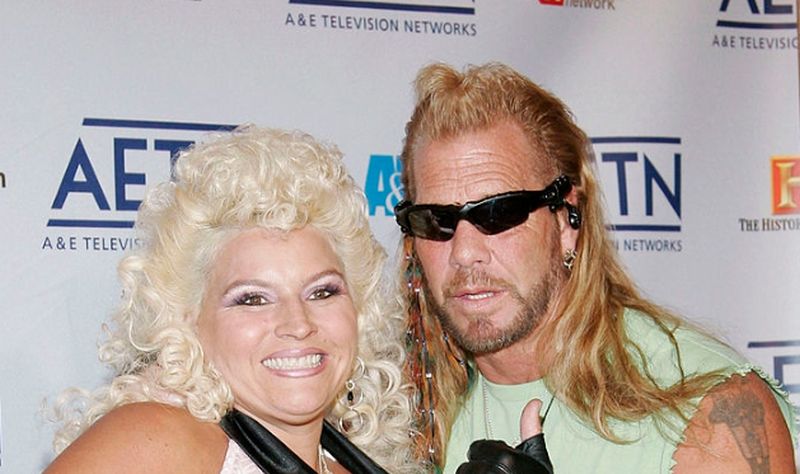 "Beth was somewhat of a control person—not from the grave but from heaven," Duane told reporters. "I'm sure she's still controlling me and I've got notes in my pillowcases, on my sink, in my shaving thing. She's still telling me what to wear."
"One of the last things she said [was], 'It's a test of my faith.' She had faith and that was it," he also said. "There's things you go through when you're dying, like steps like you do when you lose someone, right? You get mad at them, and then you go through all these steps."
"Well, the last step when you're dying is to accept it," he added. "And she said to me the other day, 'Honey, that last step, I ain't taking…' So go, Bethy."
Jack Phillips contributed to this report.