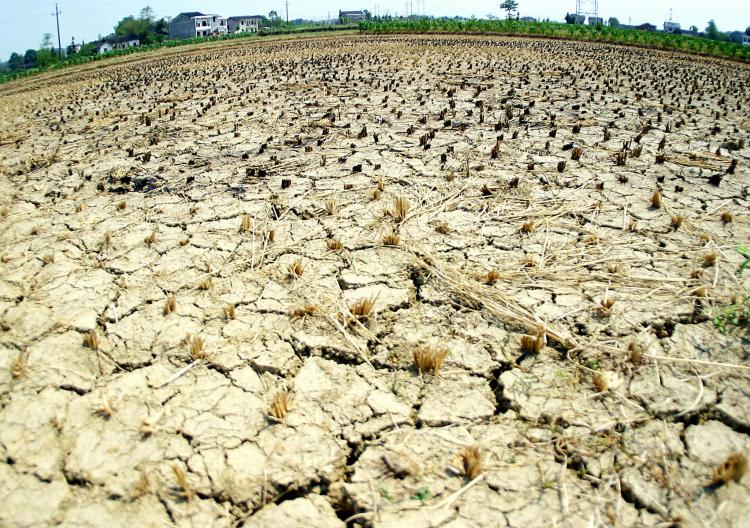 Droughts across southern China have stunted crops and brought water levels in reservoirs and rivers to a historic low. Some provinces have had little to no rain since August, according to the Jiangxi Province Hydraulics Bureau.
"We have no water and many worms are eating the crops. When we harvest the rice, we are harvesting worms," said Deng, a farmer from Jing'an County in Jiangxi.
Rain hasn't fallen in the province, but the fall temperature has risen. "The water reservoir is all dry," Deng said, adding that he has never seen such a large-scale crop reduction.
With rivers and ponds almost dry, rice fields dependent on irrigation are producing low yields. Many farmers have had to stop working. "We cannot do anything without water," said Ye, a farmer from Longmen county when speaking to The Epoch Times. He only gave his last name. "Vegetables won't grow, and we have to buy them now. In some places, even drinking water has become a problem."
Hundreds of thousands of people across Guangdong have been affected, according to the Weather Bureau there. Water supplies in 32 major reservoirs in Guangdong have dropped to lower levels than during the drought of 2004.
Since July barely any rain has fallen near Xiamen in China's southern Fujian Province, where rice is the major crop. "The rice plants and vegetables we planted all died," said Chen, a farmer from the area. "The vegetables were just rotten from the heart. Basically we don't have any harvest for this season."
Chen told an Epoch Times reporter that he is concerned about the impact in Fujian if the drought continues. The dry vegetables cannot even be used to feed the chickens, he said, adding that many people have turned to growing eggplants, which survive better in dry conditions.
Approximately 1.3 million acres of farmland are in drought in Fujian province, and 194,000 people are going thirsty. Dozens of water reservoirs are at all-time lows, with some dried up, according to reports from the Fuijian Office of Flood Control and Drought Relief.
Overlooking the Xiang River from a bridge, one can see half of the width of the river, about 500 meters, exposed. Seaweed has been thriving in the stagnant water. The Xiang River's dry season is expected to continue until the year's end.
Low water levels have lead to a standstill in commerce along parts of the river. The Anqing section of the Yangtze River in Anhui and Jiangsu provinces has reached its lowest point since 1986, according to an official report. Boats have been grounded, and navigation is becoming more difficult day by day.
Drought has become increasingly more frequent in the country since the 1990s
Read the original Chinese article.