A drone operator filmed scenes of emergency vehicles pulling burnt cars off the main highway through Pedrógão, Portugal.
Each of these charred, ash-covered hulks is a coffin.
The fires that swept through the forests around Pedrógão, Portugal, were so hot they literally flash-fried people in their cars like canned meat being cooked in a factory.
These people were doing their best to flee the flames. There is only one way out of the area. They couldn't stay in their burning homes.
Obviously they couldn't drive away in their cars, either.
So far 62 deaths have been reported. Many of those died in their cars, on the lone highway out of town.
The death toll is likely to rise. Rescue workers have not been able to reach many of the more remote villages yet.

Portugal's Prime Minister António Costa said that the tragedy was worsened because the fire burned through phone lines and melted communications towers. People living in the remote villages dotted throughout this sparsely populated, heavily forested region had no warning until they saw the smoke on the horizon, and no way of knowing how fast the fire was moving.
Many people woke up in the morning to find their homes—and lives—at risk.
Temperatures have been high in the area, and rainfall has been low. The heat and drought created the perfect conditions for a fire storm. All that was needed was a lightning bolt.
The local government has summoned two battalions of soldiers to assist emergency personnel. They are still working their way through the region, looking for villages but without much hope of finding survivors.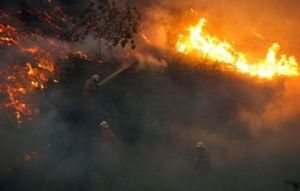 The Pedrógão, government has recruited psychologists to provide grief counseling for the survivors.
Many of the survivors have lost everything they owned—houses, clothes, personal items, and family mementos; many have lost family members.
While they struggle to cope with the immediate reality of finding food and shelter and locating loved ones, they might not realize that their brains are susceptible to going into shock. Grief can cause anger or depression, can make people more susceptible to illness, can sap people's will to live.
Hopefully the psychologists can find the ones most at risk and provide some tools to help them cope.