A television drone hovered over a swath of Naples, Florida, on Sunday, Sept. 10, and filmed substantial flooding and damage from Hurricane Irma showing torn roofs, partially collapsed homes, streets and backyards overrun with water, and masses of scattered debris in what once was a scenic suburban neighborhood.
The entire neighborhood surveyed by the drone appears completely deserted with only a lone car pulling up to a corner on one of the few blocks not inundated by the massive flood.
Some houses appear completely ravaged, with their contents strewn out on the lawns nearby.
Hurricane Irma tore through a large portion of Florida on Sunday with floods, damage, and powerful winds documented along its path.
The eye wall of the storm passed over Naples with multiple videos showing fierce winds and rain pummeling the area.
Downgraded from a hurricane to a tropical storm, Irma flooded several northern Florida cities with heavy rain and high storm surge on Monday as it headed out of the state after cutting power to millions and ripping roofs off homes.
Irma, once ranked as one of the most powerful hurricanes recorded in the Atlantic, hit a wide swath of Florida over the past day, first making landfall on the Florida Keys archipelago and then coming ashore south of Naples and heading up the west coast.
Irma, now a tropical storm with sustained winds of up to 70 miles per hour, was located about 35 miles west of Gainesville and headed up the Gulf Coast, the National Hurricane Center said at 8 a.m. ET.
The Cuban government reported on Monday that 10 people had been killed after Irma battered the island's north coast with ferocious winds and 36-foot waves over the weekend. This raised the overall death toll from Irma's powerful rampage through the Caribbean to 38.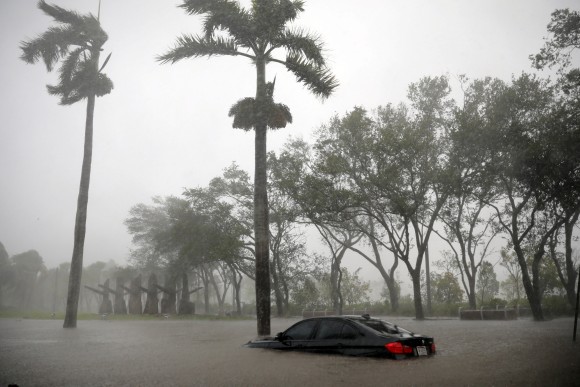 The sheriff's office in Jacksonville, on Florida's northeast coast, reported that it was making a rescue from waist-deep water on Monday morning and urged people to stay off unsafe roads. The National Weather Service issued a flash flood warning for the city, with nearby St. Augustine also seeing flooding.
"Stay inside. Go up. Not out," Jacksonville's website warned residents. "There is flooding throughout the city and more rain is expected."
After what she called a terrifying night hunkered in her house in St. Petersburg, on Florida's Gulf Coast, with her children and extended family, Julie Hally emerged with relief on Monday. The winds had toppled some large tree branches and part of a fence, but her house was undamaged.
"My heart just pounded out of my chest the whole time," said Hally, 37. "You hear stuff hitting your roof. It honestly sounds like somebody is just whistling at your window the whole night. It's really scary."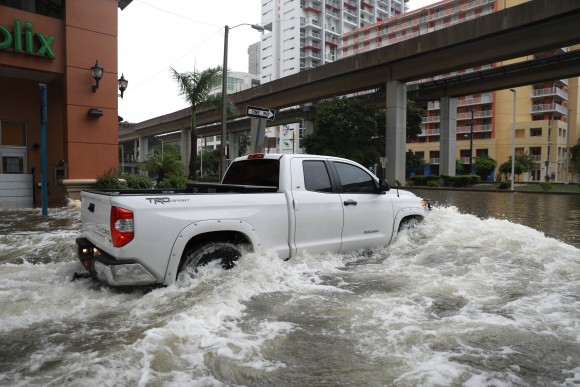 As officials and residents began to assess the damage around the state, Gov. Rick Scott said he would travel later on Monday to the Keys. Irma first came ashore at Cudjoe Key as a Category 4 hurricane with sustained winds of up to 130 mph.
"I've heard there's some significant damage, right where the eye of the storm hit," Scott told NBC's "Today" show. "We'll find out."
A large military airborne relief operation was being prepared to take help to the islands, which are linked by a dramatic series of bridges and causeways from Key Largo almost 100 miles southwest to the city of Key West, Monroe County, Emergency Director Martin Senterfitt told a teleconference.
The state's largest city, Miami, was spared the brunt of the storm but was still battered. Utility crews were already on the streets there clearing downed trees and utility lines. All causeways leading to Miami Beach were closed by police.
On Monday, much of the state's east and west coasts remained vulnerable to storm surges, when hurricanes push ocean water dangerously over normal levels. That risk extended to the coast of Georgia and parts of South Carolina, the hurricane center said.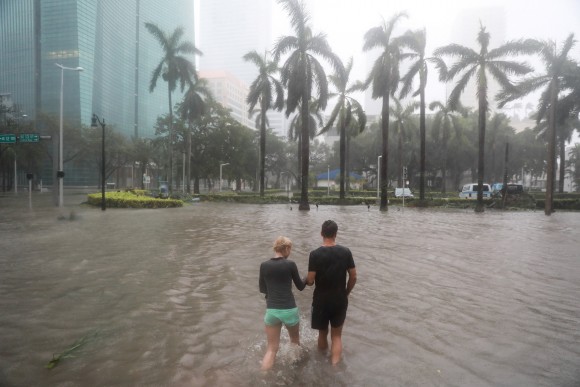 As it traveled through the center of the state early on Monday, Irma brought gusts of up to 100 mph and torrential rain to areas around Orlando, one of the most popular areas for tourism in Florida because of its cluster of theme parks, the National Weather Service said.
In Daytona Beach, on the east coast about 55 miles northeast of Orlando, city streets were flooded and emergency authorities carried out several water rescues, the Daytona Beach Police Department said on Twitter.
Over the weekend, Irma claimed its first U.S. fatality—a man found dead in a pickup truck that had crashed into a tree in high winds in the town of Marathon, in the Florida Keys, local officials said.
During its passage through the Caribbean en route to Florida, for days Irma was ranked at the rare top end of the scale of hurricane intensity, a Category 5. It carried maximum sustained winds of up to 185 mph when it crashed into the island of Barbuda on Wednesday.
Ahead of Irma's arrival, some 6.5 million people in southern Florida, about a third of the state's population, were ordered to evacuate their homes. Some 200,000 were housed in shelters during the storm, according to federal officials.
Reuters contributed to this report.
From NTD.tv