A British driver who told police he swerved and crashed his car to avoid running over an octopus had in fact taken a cocktail of drugs, it was heard in court.
Robert Shapley, 49, recently appeared at Newton Abbot Magistrates' Court, the BBC reported, where he pleaded guilty to driving while under the influence of drugs.
Shapley, of Salcombe in Devon, was cited by the BBC as telling officers at the time of the Feb. 5 crash: "It got a bit bumpy for a while. I swerved to avoid an octopus." He is also reported to have said, "it is pretty bad out there having to dodge all that whitebait."
He lost control of his vehicle after passing another car on the A381 between Malborough and South Milton, and then ended up upside-down in a ditch.
Police said they found no evidence of an octopus on the road. Following the crash, however, someone stuck a cardboard cutout of an octopus near the scene of the accident, according to Unilad, leading some people to believe Shapley may have been telling the truth.
Man who 'swerved to avoid an octopus on the road' was actually high on drugshttps://t.co/mBLT4Za6bq pic.twitter.com/VdyvUIxNWq

— Daily Mirror (@DailyMirror) May 29, 2019
According to the Mirror, prosecutor Philip Sewell told the court Shapley had tested positive for morphine, codeine, cannabis, and a by-product of heroin.
Shapley's attorney Simon Colman was cited in the report as saying that his client had taken prescription drugs as a result of his depression and anxiety. He argued Shapley had no recollection of getting behind the wheel of his car.
The BBC reported the case has been adjourned for a report on Shapley's suitability for a drug rehabilitation requirement.
Florida Driver Who Hit and Killed 3 Teens Smelled of Alcohol
The driver who hit and killed three teens while they were waiting for a bus was allegedly driving with a suspended license and reeked of alcohol, Miami Herald reported.
Police have not yet formally identified the driver, but Miami Herald sources named the driver as 31-year-old Mariam Coulibaly, an exotic dancer with numerous driving-related citations on her record.
After the accident, she allegedly told medical staff she had been partying all night.
"I came from a black out. When I woke up I didn't even know that I hurt people," Coulibaly told the Miami Herald from her hospital bed.
"I shattered my chest," she said. "I had surgery on my stomach; shattered my hip."
The three teens—13-year-old Gedeon Desir, 15-year-old Lens Desir, and 17-year-old Richecarde Dumay—were hit at about 5:22 a.m. on May 25 as they were together on a sidewalk.
Investigators cited in the report estimate the woman was driving around 60 miles per hour before crashing into the victims. The teenagers died on impact.
According to Miami-Dade records via the Miami Herald, Coulibaly has received citations for 35 separate infractions in the last decade, including careless driving and running a red light.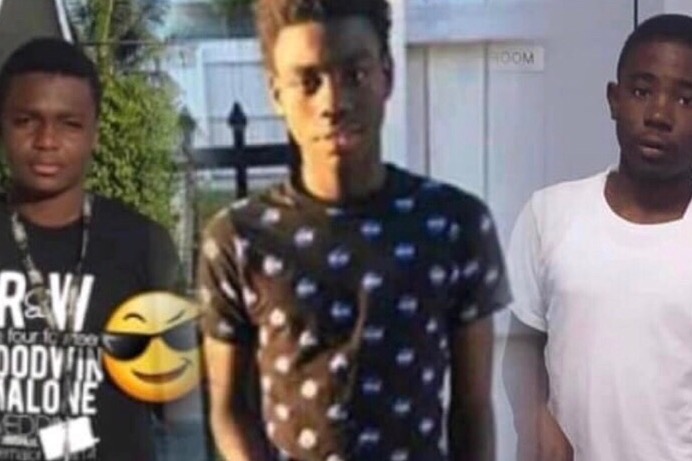 The driver survived the crash and was taken to the hospital in critical condition.
Drunk Driving Statistics
On any given day, nearly 30 people in the United States die in drunk-driving crashes, according to 2017 figures published by the United States Department of Transportation.
This is equivalent to one lost life every 48 minutes or just over 10,000 deaths per year.
According to the Centers for Disease Control and Prevention (CDC), of the 1,233 traffic deaths among children ages 0 to 14 years in 2016, 214 (17 percent) involved a driver operating under the influence of alcohol.
More than 1 million drivers were arrested in 2016 for driving under the influence of alcohol or narcotics.
Deaths due to drunk-driving have fallen by a third in the last three decades, the DOT notes.
Crash Deaths in the United States
Tens of thousands of people are killed and millions injured each year from motor vehicle crashes, according to the CDC. The CDC says these deaths cost more than $380 million in direct medical costs.
The major risk factors for crash deaths in the United States are: not using seat belts, car seats, and booster seats (factors in over 9,500 crash deaths); drunk driving (a factor in more than 10,000 crash deaths); and speeding (contributing to more than 9,500 crash deaths).
According to 2017 data from the CDC, the 10 leading causes of death in the United States were: heart disease, cancer, unintentional injuries, chronic lower respiratory diseases, stroke, Alzheimer disease, diabetes, influenza and pneumonia, kidney disease, and suicide.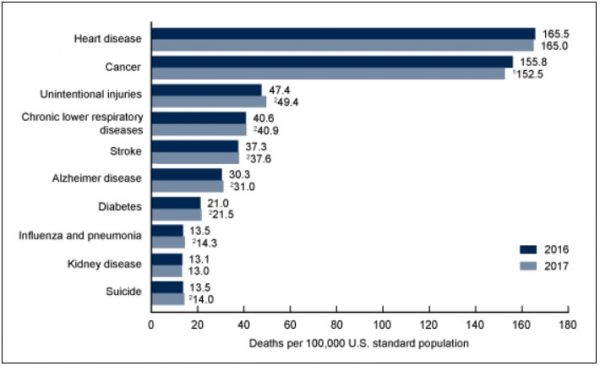 These further break down as follows: the most common are unintentional poisoning deaths (58,335), followed by motor vehicle traffic deaths (40,327), and unintentional fall deaths in third place (34,673).
The total number of emergency department visits for unintentional injuries in the United States in 2017 was 30.8 million, according to the CDC.
The 10 leading causes accounted for 74 percent of all deaths in the United States in 2017.