A California Highway Patrol officer was killed during a traffic stop after a long gun battle with a driver who pulled a rifle from his pick-up truck, opening fire while the officer was calling in a tow-truck and filling out paperwork.
Before succumbing to his injuries, the officer called for backup, and six more law enforcement officers engaged in a firefight with the driver as multiple agencies flooded to the scene near the 215 Freeway in Riverside, eventually shooting the suspect dead.
The killed officer was later identified by the CHP commissioner as Andre Moye, Jr., 33, who had been with the CHP for four years, according to his family.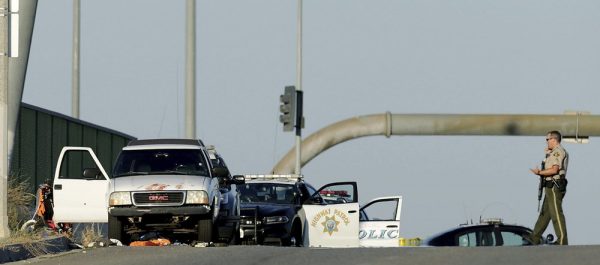 In a press conference broadcast on social media, authorities said that the officer was pronounced dead on arrival at the hospital on the afternoon of Aug. 12. Two other officers were injured, one in a critical condition.
The suspect has not been named by police, however, according to ABC7, he was identified as by his family as Aaron Luther, 49, of Beaumont—an ex-con who served 10 years in prison for attempted murder.
Scott Parker of the California Highway Patrol told the media that a CHP officer had pulled over a white GMC and had decided to impound the truck at around 5:30 p.m.
As he called for a tow truck, however, "the suspect entered his vehicle and pulled out a rifle, unknown caliber rifle, and he engaged our officer with multiple gunshots," Parker said.
Moye was able to call for backup. The first two officers to arrive, CHP officers, were also struck and injured. In total seven officers engaged with the suspect, as multiple agencies rushed to the scene, before he was shot and killed.
"It was a long and horrific gun battle," said Riverside Police Chief Sergio Diaz. "And it resulted in a very extensive crime scene."
Authorities did not identify the type of rifle used when questioned.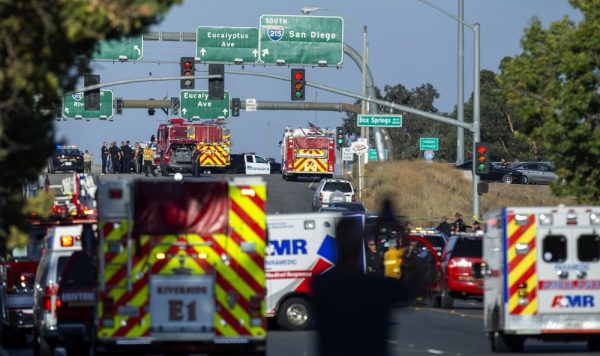 Two civilians also received superficial injuries during the incident.
"I am devastated by the tragedy that unfolded earlier in Riverside," CHP Commissioner Warren Stanley wrote on Twitter. "Tonight, I mourn the loss of one of our own, CHP Officer Andre Moye, who was killed during a shootout following a traffic stop. Prayers go out to all, including the responding officers injured in the shooting."
Authorities said that the investigation was in its early stages.
"We don't know where the suspect was coming from, where he was headed to, what his affiliations are," Diaz said. "We don't know his motive for this crime."
The gunman was identified as Aaron Luther by family members, according to Eyewitness News, who said he had served time for attempted murder but was now a married father trying to get his life together.
One eyewitness, Jennifer Moctezuma, told the LA Times she was driving home with her 6-year-old twins when a bullet from the shootout flew through her front windshield.
In the car behind was retired marine Charles Childress, 56, who saw that a bullet had gone through Moctezuma's windshield, and helped them to safety, crawling with them under a nearby bridge.
"I was 21 years in the Marine Corps, and my training just kicked in," Childress said.
"He's my hero," Moctezuma said. "He's my hero."
Debbie Howard, a family member of the slain officer Moye, told NBC Los Angeles that he had a good heart and loved his job. "That's all he talked about," she told station. "I'm going to be CHP. And he did it."
"I've been knowing him since he was a baby," she told the station. "I don't understand. I just don't understand."