A Tennessee man was killed after a piece of concrete was allegedly thrown from a highway overpass through his front windshield, hitting him in the face, according to police in Nashville.
Joe Shelton Jr. was driving to work on Interstate 24 when the concrete chunk crashed through his window and hit him before 5 a.m. on Nov. 20. Shelton then hit a pickup truck and guardrail, said the Metro Nashville Police Department in a news release.
His vehicle, a Nissan GT-R sports car, then came to a stop on I-24's Silliman Evans Bridge, police said.
Man Killed After Concrete Thrown From Highway Overpass Smashes Through His Car's Windshield https://t.co/qp3pxz3x06

— People (@people) November 21, 2018
He was pronounced dead at the scene of the crash, said police.
Officials determined the chunk was not from the bridge structure.
"At this point in the investigation, it appears 'likely' that the chunk of concrete was thrown from the Shelby Avenue Bridge. [Tennessee Department of Transportation] bridge inspectors determined that the concrete was not a part of the bridge structure, but more closely resembled a roadway curb," said Nashville police in the release.
Officials are now reviewing surveillance camera footage along the I-24 area.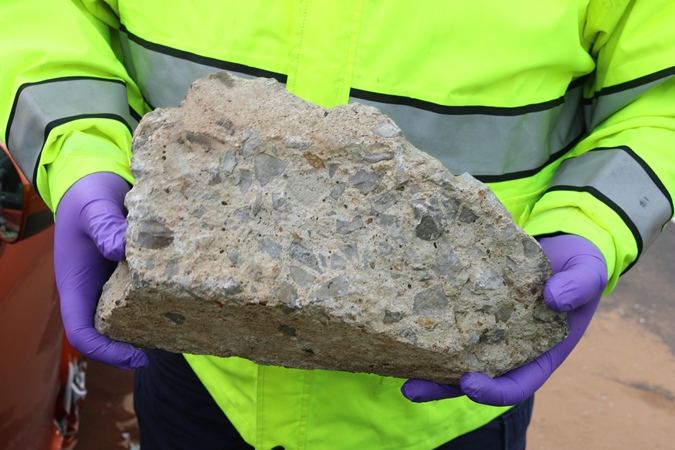 They don't "yet have any description of a person(s) who may have thrown the concrete chunk from the bridge," according to the police department news release.
A photo of the concrete chunk shows it's approximately 1 foot long and several inches wide.
"MNPD investigation today's 4:54 a.m. death of Joe C. Shelton Jr., 54, on I-24 east near downtown after this chunk of concrete, likely thrown from the Shelby Av Bridge, went thru his windshield. Know who may have done this?" the Metro Nashville Police also wrote on Twitter.
Nissan Group of North America also issued a statement to News Channel 9, saying that Shelton worked at the company.
"We are saddened to learn of Joe's passing. Our deepest sympathies are with his family members, friends and colleagues at this difficult time," the statement reads, according to News Channel 9.
Last year, Nashville police investigated 10 cases of individuals throwing rocks in various locations on I-24 area in downtown Nashville, Fox 17 reported in July. Meanwhile, in Michigan, five teens were arrested for throwing a giant rock from an overpass, killing a construction worker last year. One pleaded guilty to murder and the other four pleaded guilty to manslaughter charges, ABC reported.
Anyone with information about this recent case in Nashville, including seeing someone standing on the Shelby Avenue Bridge in the 4:50 a.m. and 4:55 a.m. time frame on Nov. 20 are being asked to contact Crime Stoppers at 615-742-7463. Callers to Crime Stoppers can remain anonymous and qualify for a cash reward.
Violent Crime Update
In September 2018, the FBI said Americans committed fewer violent and property crimes in 2017, according to statistics. The violent crime rate—including offenses such as murder, robbery, and aggravated assault—dropped by almost 1 percent and is still about 4 percent above the 2014 rate. The murder rate dropped by 0.7 percent.
"After historic increases in violent crime in 2015 and 2016, we are beginning to see encouraging signs," Attorney General Jeff Sessions said in a statement at the time. "But our work is not done. While we have made progress, violent crime and drug trafficking continue to plague our communities and destroy the lives of innocent, law-abiding Americans."
Of the estimated 17,284 murders in 2017, more than half occurred in larger cities—with populations of more than 100,000.